Join me for a dark journey through Christmas folklore and seasonal mythology at Guy's Hospital Chapel, Saturday the 9th December 2023 at 3:00.
Booking: Tickets £12 including a delightful gin cocktail and 20% donation to Guy's and St Thomas.
This event is part of London Month of the Dead's Gothic Christmas!!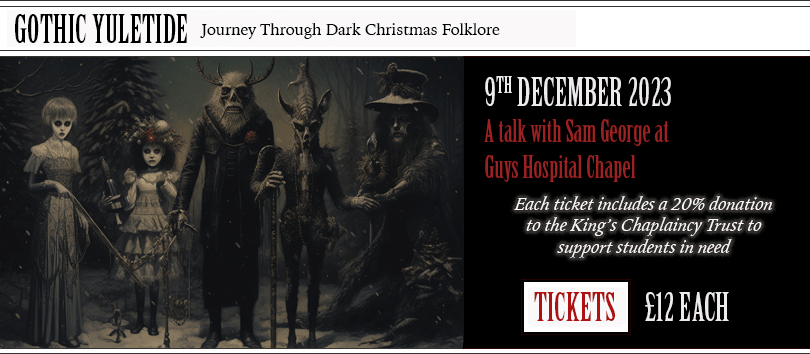 DESCRIPTION:
In this illustrated talk, 'coffin boffin,' Dr Sam George, journeys through the twelve days of Christmas engaging with the wonders of Gothic Advent from the pranks of Jack Frost to the terrifying misdemeanours of Krampus (the horned Yuletide figure from Austro-Bavarian folklore). During the Christmas season in Norway, for example, a Julebukk, or man-goat goes door to door carolling and trick or treating; and in Iceland, parents warn children of the monstrous Jólakötturinn, a terrifying feline who knows who has been naughty or nice. Greece has a demon, uncannily referred to in English as 'the Christmas Vampire'.  Confined to the underworld, it emerges for 12 days over the Christmas season from 25th Dec to 7th Jan. In Austria, the uncanny Schnabelperchten, folklore figures with long beaks, equipped with baskets on their backs and large pairs of scissors, make their way through town on the 5th of January, on the eve of Epiphany.
The characters that make up Europe's winter folk festivals, are far from cosy, despite their association with Yuletide, but they do testify to humanity's need for myth. This gloriously dark introduction to the holiday season celebrates seasonal mythology, demonstrating its unique intersection between folklore and the Gothic.
Sam George is Associate Professor of Research at the University of Hertfordshire and the Convenor (with Dr Bill Hughes) of the Open Graves, Open Minds project.
TIME & VENUE:
3.00 p.m. GMT.
Guy's Hospital Chapel, Courtyard Entrance. St Thomas Street, London SE1