OGOM offers a number of public tours on the theme of dark folklore and Gothic Hertfordshire.
The Urban Weird Spectral St Albans Magical Cities Tour, From Britannia to The Wicker Man: The Welcome Return of Folk Horror, makes reference to the 'submerged histories' which give play to the imagination and rise up to frame spacial narratives and this is precisely the theme for our Spectral St Albans Magical Cities Tour. St Albans is built on the remains of the ancient Roman city of Verulamium, razed to the ground by Boudicca. You can join us for a stunning tour of the buried city and engage with the magical and supernatural history of Hertfordshire's finest spectral city.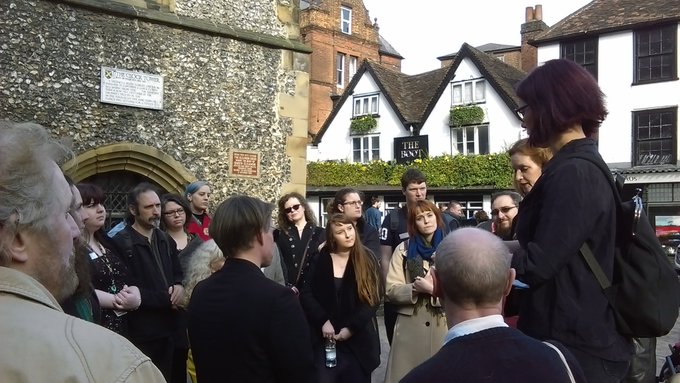 On Tour with a Vampire Slaying Kit Dr Sam George also goes on tour with the project's Vampire Slaying Kit to explain something of the history of our fascination with vampires. Her talk is available to societies, schools, colleges, festivals and conferences. It featured in Living Frankenstein at the University of London and the Bath Literary Festival as part of the Mary Shelly bi-centenary. To find out more, read Sam's 'on tour with a vampire slaying kit'
OGOM Supernatural St Albans Halloween Tour This gothtastic tour takes place in October each year, following a triumphant, sell-out launch in 2018. The tour has been developed by Dr Sam George, Convenor of the Open Graves, Open Minds Project in collaboration with post doctoral researcher, Dr Kaja Franck.
'What we have uncovered is remarkable. St Albans is home to hidden tombs, ghostly monks, pagan gods, grotesque carvings, an ancient dragon's lair, succubi, winged skulls, witches, Wicca communities, folklore rituals and more' (Sam George).
'Highlights of the tour will include a cloven footed succubus, a path made out of gravestones and examples of winged skulls or "death's heads", which represent death taking flight and the soul's journey to the afterlife. These memento mori have become a symbol of studying Open Graves with an Open Mind, which is what we aim to do on the project' (Sam George)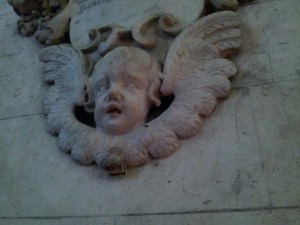 To enquire about any of these tours, email sam@opengravesopenminds.com. Our last tour was on 18th January 2020 follow this link