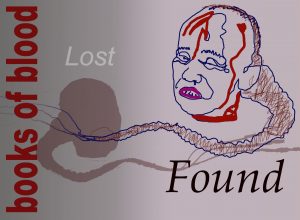 'Books of Blood' is a Gothic-inspired project and touring exhibition curated by Dr John Rimmer, Dr Sam George, and Dr Tracy Fahey. It invites audiences to consider the body as a 'book of blood' that can be 're(a)d' (following horror writer Clive Barker). The project is being introduced via a public workshop at the Being Human Festival 2017
Books of Blood: Objects Lost and Found
In this gruesome 'Show and Tell' workshop, images of mysterious, unique, and bloody objects 'lost' in the Science Museum's archives will be uncovered in a way that enables the curious history of each piece, and its relationship to blood and the body, to be sensationally recovered or 'found'. Participants will be encouraged to be creative and take part in a number of writing and drawing activities, based on Clive Barker's notion of the body as a 'book of blood' that can be 'read'. Our participants' responses to the curious objects (in words and/or images) will form diverse narratives on 'being human' that will be preserved in the public space for others to enjoy. This event will be facilitated by gothicist, Dr Sam George and the artist, Dr John Rimmer (co-conveners of the wider 'Books of Blood' project).
View this event on the Being Human website
Date: Thursday 23rd November 2017
Venue: The Old Operating Theatre
Time: from 1.30 – 4.30 (drop in sessions – no booking needed)
Contacts: john.rimmer@bishopg.ac.uk; s.george@herts.ac.uk
Please note that whilst the workshop is free there is an entry charge for the museum of 6.50 (5.00 concessions). There is also a spiral staircase leading to the space which needs to be negotiated.