'All humans are books of blood—wherever you open us, we're red' (Clive Barker)
'Books of Blood' is a Gothic-inspired project and touring exhibition curated by Dr John Rimmer, Dr Sam George, and Dr Tracy Fahey. It invites audiences to consider the body as a 'book of blood' that can be 're(a)d' (following horror writer Clive Barker). We are interested in the representation of the presence of blood in our culture, in the importance of the material substance of life itself. A number of themes will be addressed such as circulation, transfusion, donation, vampirism, blood as gift, blood ritual, blood and the body politic, blood as ink, blue blood, bad blood and blood disease (especially diabetes and haemophilia). We seek to introduce audiences (and medics) to the unsettled and uncanny nature of blood disease and to encourage them to think about the Gothic as a valid way of figuring issues of disease and infection.
We are using unique objects on loan from the Science Museum and Wellcome archives to illustrate our themes. These include the Palmer Injector, blood-measuring figurines, an amputation set, the model head of an executed Chinese pirate, a set of haemophilia dolls, a coconut goblet engraved with blood-letting scenes. These remarkable artefacts will unleash creative responses from writers or artists in residence at our venues (and in public workshops). The project will also feature original artwork, sculpture, video and text installations on the theme of the body as a book of blood. As it develops a programme of interpretative and participative activities will expand on this initial dialogue with the public (e.g. a Blood Café, writing workshops, a book-making workshop, patient narratives and public talks).
'The purpose of literature is to turn blood into ink' (T.S. Eliot)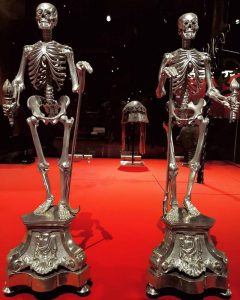 Who will this research be relevant to and why?
We hope to reach out to blood disease sufferers and patient groups, giving them a voice and empowering them. Health professionals and institutions, especially Arts and Health Centres, fostering the connections between art and science. Blood charities (e.g. NHS Give Blood), attracting public attention and donors. MUPI (museum and university partnerships), together with Artists, writers, poets, performers, engaging in ethical public engagement and opening borders with science. Scholars and students in the Gothic, fine arts, humanities and medicine will assist us in cultivating new interdisciplinary perspectives on blood. The general public will be important too in encouraging empathy and new perspectives on disease and the body. Now is undoubtedly the right time to develop this project because of the increased need for blood donation; the media's obsession with, and misconception of, diabetes; and the need for talking spaces for those with invisible illnesses and/or blood disorders.
The project developed from gothic research into bloodlust as vampirism in literature and film. We wanted to promote an alternative but related image of blood as gift. Dr Fahey has an artistic involvement in Limerick's bid to become a Compassionate City, through the launch of a Blood Café and Dr Rimmer is promoting wellbeing around his art practice in the Midlands. Drs Fahey and Rimmer both draw on their own experience with Type I diabetes, adding a subjective component. The project will play a vital part in the development of the Open Graves Open Minds research centre convened by Dr Sam George at the University of Hertfordshire.
What changes do we hope to see as a result of this work?
A departure from unsettled images of bad blood and a celebration of blood as life and as gift
Increased blood donations, through cultivating a shift in perception, encouraged by the facility to give blood at the final event
The alleviation of haemophobia, which impacts on self-managed illness and blood donation, through positive images of blood
An increased awareness of the role of creative arts in bringing about changes and shifts in medical practices
An understanding of the Gothic as a way of figuring disease and infection and increased awareness of the successful self-management of blood disease.
Changes to the public perception of blood disorders (primarily diabetes)
The development of talking spaces, supporting persons with self-managed blood disorders (the Blood Café).
We are currently seeking funding for this project from The Wellcome and elsewhere.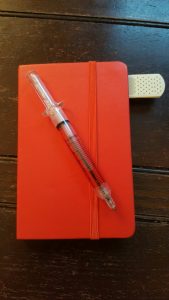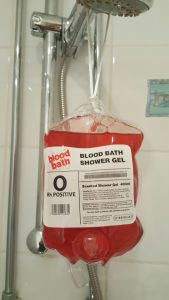 Curators
Dr Sam George is Senior Lecturer in Literature at the University of Hertfordshire. Her research areas include eighteenth-century literature (scientific dialogue), women and science (botany, entomology, herbalism, plant lore), and gothic studies (vampirism, folklore and young adult gothic fiction). She is the author of Botany. Sexuality and Women's Writing: From Modest Shoot to Forward Plant 1760-1830 (MUP 2007) and the co-editor of Botanising Women: Transmission, Translation and European Exchange (2011). She has contributed to 'Poetic Botany', a digital exhibition hosted by New York Botanical Gardens http://www.nyborg/poetic-botany/contributors/.
On the gothic front, she is the Convenor of the Open Graves, Open Minds research project the activities of which have been widely reported in the media. She has been prominent in the national and international press, following a trilogy of high profile events (on vampirism, shapeshifters and magical beings). Her interviews have appeared in newspapers from The Guardian, The Times, THES, and The Independent to The Wall Street Journal, Russia today and South China Post). Her publications in this area include: Open Graves, Open Minds: Representations of Vampires and the Undead from the Enlightenment to the present day (MUP, 2012), a special edition of Gothic Studies on vampires (15.1 (2012)) and Company of Wolves: Werewolves, Shapeshifters and Feral Humans is (forthcoming, MUP), co-edited with William Hughes. She has articles forthcoming on wolf children, folklore and undead fiction and the history of the literary vampire. A monograph, Generation Dead: Young Adult Fiction and the Gothic is underway for completion in 2018.
Dr Tracy Fahey is Head of Department of Fine Art and Head of the Centre for Postgraduate Studies in Limerick School of Art and Design (LSAD). Her primary research area is medical humanities with special reference to the gothic, visual arts and folklore. She is the convenor of the Death Salon which merges patient narratives and fine art practice to create a dialogic space. In 2013 she established the LSAD research centre ACADEMY where she also acts as principal investigator. She also founded the art collaborative, Gothicise, which creates site-specific performances that interrogate the relationship between site and narrative. She has published widely on medical Gothic, contemporary art, transgressive art, and pedagogy and has chapters in The Gothic Compass (Routledge) and The Gothic and the Everyday: Living Gothic (Palgrave) with essays forthcoming in collections with Manchester University Press, Cork University Press etc. She is currently working on a monograph on Contemporary Irish Folk Gothic for University of Wales press. Her short fiction has been published in thirteen anthologies, and her debut collection, The Unheimlich Manoeuvre was published in 2016.
Dr John Rimmer is a practising artist, Senior Lecturer, and Academic Coordinator in Art at Bishop Grosseteste University. His current body of work is inspired by his experiences of type 1 diabetes, with themes around self managed illness, repetition or ritual, reliance on medical intervention and the prospect of transhumanism. Elsewhere his research interrogates the future of painting and embraces hybrid or mixed media, such as video and collage. He is engaged with both practical and curatorial work, combining old and new technologies. His exploration of different media coheres with his interest in mind and body transformations or malfunctions via specific technological, medical, and social situations.
John has exhibited and curated nationally and internationally for over twenty years. His work has appeared twice at the John Moore's Open Painting and at The Collection (Lincoln), H-Space Gallery (Bangkok), GoCart Gallery (Sweden), Sekler National Museum (Romania), Ikon Touring Programme (Various venues), Whitworth Art Gallery (Manchester), Cornerhouse (Manchester), Bluecoat Gallery (Liverpool). His curational work has shaped a number of inspirational group exhibitions and their related publications. Digitalis (2008-10) appeared at 3 venues in Europe and the UK and most recently Misdirect Movies (2013-2014). The latter explores the possibilities of collage, through the artists' use of cinematic imagery (4 UK venues). The book Misdirect Movies was edited by John Rimmer and Andrew Bracey and published by Cornerhouse in 2014.
'Books of Blood' will be launched via a drop-in workshop at The Old Operating Theatre at the Being Human Festival on 23rd November. Full details here