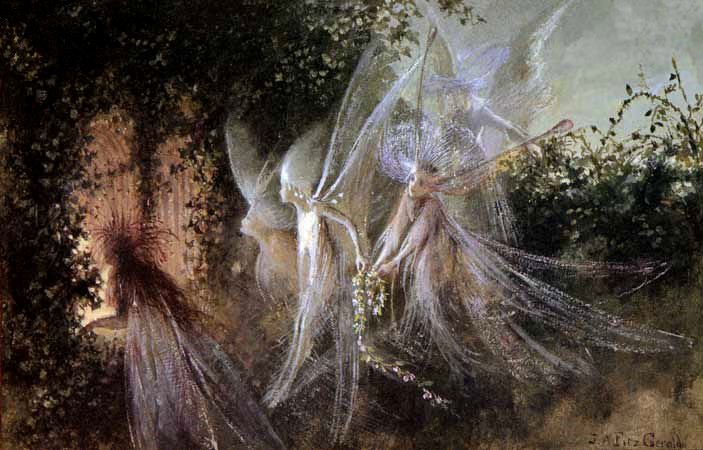 * Conference Room 1 is the main room where all the Plenaries and other activities take place. You can leave this room to join a Panel in Room 2, then return when that has finished.
* Each paper is numbered so that you can match it with the List of Abstracts here.
Click on the blue Panel titles to expand and see the papers.
Thursday, 8 April 2021
1: 9:45 – 10:00 Welcome
Dr Sam George University of Hertfordshire
2: 10:00 – 10:40 Plenary: Where do fairies come from? Shifts in shape
Prof. Diane Purkiss Keble College, Oxford
Introduced by Daisy Butcher
3: 10:40 – 11:25 Parallel Session:
3 Dr Jen Baker (University of Warwick)
Precious commodities: Children, fairy-folk, and the cult of death in the nineteenth century

22 Katerina García-Walsh (University of St Andrews)
Glimmers of fairy sight in Margaret Oliphant's Scottish Gothic

56 Madelaine Sacco (University of Newcastle, NSW)
Keys to the doorways to the fairy realm: Travelling to Fairy in modern literature
34 Dr Meriem Rayen Lamara (University of Northampton)
'Twilight Creatures': Dark fae and fire spirits in Young Adult Gothic and fantasy

41 Helen Nde (Mythological Africans)
The Gothic in traditional African folklore: Tales of wonder, horror and the Otherfolk

65 David Williams (Fireside Canada)
Trigger-happy fairies vs. real estate witches: The unseen indigenous in 'The Baldoon Mystery' and other settler Gothic tales
4: 11:25 – 11:45 Tea/Coffee Break
5: 11:45 – 12:30 Parallel Session:
36 Dr Anastasia A. Lipinskaya (St Petersburg University, Russia)
Between the lights: A self-reflective Christmas among the fairies

37 Dr Jane Mainley Piddock (Aberystwyth University
Was M. R. James away with the fairies?

54 Jack Rooney (Ohio State University)
Ever the thought of her abides with me': Rosamund Marriott Watson and the fairy poetics of the hidden soul
7 Dr Bryan Brown (University of Exeter)
Russian Gothic faeries as harbingers of twenty-first-century ecognosis

20 Dr Kaja Franck (University of Hertfordshire)
'No weapon forged by mortal or fey can harm the Iron King': Imagining the environmental apocalypse in Julia Kagawa's Iron Fey series

58 Cat Smith (Nottingham Trent University)
Gods, men, and monsters: Eco warnings in In The Night Wood * Cancelled owing to illness
6: 12:30 – 13:30 Lunch
7: 13:30 – 14:10 Plenary: Precious revisions of greedy glass bottle tricks: Nalo Hopkinson's folkloric revisions of classic fairytales and myths
Dr Maisha Wester Indiana University
Introduced by Bill Hughes
8: 14:10 – 14:30 Tea/Coffee Break
9: 14:30 – 15:15 Parallel Session:
1 Marita Arvaniti (University of Glasgow)
Beware perfection unremarked: Fairy enchantment and human art in Pamela Dean's Tam Lin and Kat Howard's Roses and Rot

4 Fabio Bazzano (University of Pavia)
Gothic fairies and other magical forces of good in early English melodrama

15 Dr Kaitlyn M. Culliton (Texas A&M University)
Fairy forests and Shakespeare's sublime: Gothic origins in early-modern drama
19 Sarah Fissmer (University of Bonn) & Marthe-Siobhán Hecke (University of Bonn)
'Love looks not with the eyes, but with the mind, And therefore is winged Cupid painted blind': Queering the Gothic in Shakespeare's A Midsummer Night's Dream on the stage

24 Prof. Pauline Greenhill (University of Winnipeg) & Dr Heidi Kosonen (University of Winnipeg)
'Something's not right in Silverhöjd': Crimes against the environment and Scandinavian forest beings in Jordskott

29 Dr Michaela Hausmann (Leipzig University)
An arboreal femme fatale: George MacDonald's Maid of the Alder-tree and her literary and folkloric roots
10: 15:10 – 15:45 Activity: The creative adaptation of fairy lore in YA fantasy novels
Betsy Cornwell Lyons Writer
Introduced by Bill Hughes
Friday, 9 April 2021
11: 10:00 – 10:40 Plenary: The Cottingley Fairies: Conan Doyle's war on materialism
Dr Merrick Burrow University of Huddersfield
Introduced by Sam George
12: 10:40 – 11:25 Parallel Session:
13 Samantha Crain (University of Minnesota)
Jane Eyre, Gothic changeling: A reluctant outsider

45 Ellen O'Sullivan (University College Cork)
'Come away, O human child': Changeling murders in Ireland in the nineteenth century

53 Caroline Roberts (University of Suffolk)
Magical mothering: Creative responses to motherhood through a re-writing of Malekin
9 Franziska Burstyn (University of Leipzig)
Fairy-lands forlorn: Re-enchantment through childhood in children's fantasy literature

30 Dr Bill Hughes (Open Graves, Open Minds Project)
Fairy carnival: Music, dance, and food in the re-enchantment of modernity from Hope Mirrlees's Lud-in-the-Mist to paranormal romance

55 Dr Rayna Rosanova (Sofia University St Kliment Ohridski)
'In fairy-lands forlorn': Keats and the enchanted imagination
13: 11:25 – 11:45 Tea/Coffee Break
14: 11:45 – 12:30 Parallel Session:
2 Caitlin Jauncey (Independent Researcher)
Aerial creatures: Fairy women and the Romantic ballet * Cancelled

10 Daisy Butcher (University of Hertfordshire)
Patriarchal control in the ballet La Sylphide (1832), Jane G. Austin's 'Prince Rudolf's Flower' (1859), and Maleficent (2014)

28 Kate Harvey (University of Stirling)
La Fée Verte: Absinthe and the Green Fairy myth in twenty-first-century Gothic
17 Gavin Davies (University of Exeter, and University of Reading)
Fairies and the Celtic Revival in popular Japanese videogames

39 Anna Milon (University of Exeter)
Playing fae: Embodying the uncanny in live action role play

42 Cynthia Nirmala Rajah (English and Foreign Languages University, Hyderabad)
The Fay in fanfiction: Drabbles and deliberations on psychopathology and power
15: 12:30 – 13:30 Lunch
16: 13:30 – 14:10 Plenary: Fairy lepidoptera: The dark history of butterfly-winged Fae
Dr Sam George University of Hertfordshire
Introduced by Bill Hughes
17: 14:10 – 14:30 Tea/Coffee Break
18: 14:30 – 15:15 Parallel Session:
26 Catherine Greenwood (University of Sheffield)
'The Ballad of Isabel Gunn' as The Daemon Lover: The economic migrant and enchantment as a recruitment strategy

40 Tam Moules (Independent Researcher, formerly University of Glasgow)
The Gothic aristocracy: Fairies, class, and the power of flight in Sylvia Townsend Warner's Kingdoms of Elfin tales

47 Hannah Pike (University of Hertfordshire)
Fae and the Other: Fae identities as threatening in City of Fae by Pippa DaCosta
12 Greta Colombani (King's College, University of Cambridge)
Human passion – fairy power: Letitia Elizabeth Landon's 'The Fairy of the Fountains'

51 Dr Saba S. Razvi (University of Houston, Victoria, Texas)
Faerie light and feminist fire: Depictions of the embattled power and sexuality of faeries in the paranormal romance novels of the Southern Vampire Mystery series and the FaeFever series

60 Cat Stiles (University of Bristol)
Faerie seductions: Faeries, sex, and fragile masculinity in early-modern English poetry
Saturday, 10 April 2021
19: 10:00 – 10:40 Plenary: 'The fairy kind of writing': Gothic and the aesthetics of enchantment in the long eighteenth century
Prof. Dale Townsend Manchester Metropolitan University
Introduced by Bill Hughes
20: 10:40 – 11:25 Parallel Session:
2 Nell Aubrey (UCL)
Elf-shot and petrified; Scary fairies and predatory landscapes

18 Tatiana Fajardo (University of the Basque Country)
A nineteenth-century influence of Gothic Faerie: The fairy tree, fairy lover, fairy art, and fairy revenge

23 Dr Monica Germana (University of Westminster)
The perpetual hauntings of borderland creatures: Finfolks and selkies in European and Inuit tales of the sea
5 Dr Francesca Bihet (University of Chichester Alumna)
The origin of the sprites: The Folklore Society's late-Victorian fairy science

50 Dr Prachi Priyanka (Sharda University)
Victorian fairy painting: Exploring the unknown, forbidden and concealed anxieties of the era

62 Pauline Trotry (Newcastle University)
Naturalisation and gothicisation: The toothed fairies of Guillermo del Toro
21: 11:25 – 11:45 Tea/Coffee Break
22: 11:45 – 12:30 Parallel Session:
21 Leni Frchkoska (Ss. Cyril and Methodius University in Skopje)
The Fairies: Swinging between the oppression and the freedom

27 Jeremy Harte (Folklore Society)
Prisoners of the gods: The captivity narrative in supernatural folklore and fiction

49 Dr Amanda Potter (Open University)
The fairy who wields the sword: Nimue as fairy queen, witch, and warrior in Cursed (2020)
43 Indu Ohri (University of Virginia)
'Changed by constant retellings': Carnival Row's recirculation of fairy and colonialist narratives

44 Dr Joan Ormrod (Manchester Metropolitan University)
'The magic of England's trees kills her sunlight, her water, life and stones': Nature, fairies and national identity in Jonathan Strange and Mr Norrell

57 Kristof Smeyers (University of Antwerp)
Fairy landscapes and the construction of the Belgian nation
23: 12:30 – 13:30 Lunch
24: 13:30 – 14:10 Plenary: Glamourie: Fairies and fashion
Prof. Catherine Spooner Lancaster University
Introduced by Sam George
25: 14:10 – 14:30 Tea/Coffee Break
26: 14:30 – 15:15 Parallel Session:
6 Dr Elizabeth Bobbitt (University of York)
Ann Radcliffe's 'Edwy:' A Summer Song of Fairie

11 Anna Clifton (University of Birmingham)
Ann Radcliffe's The Romance of the Forest and the Gothic sea-nymph

33 Györgyi Kovács (Eötvös Loránd University, Budapest)
Fairies in Ann Radcliffe's poetry
35 L. B. (Lorna) Limbrey (Poet)
Fairyland: fantasy literature's queer liminal space

38 Dr Martina Massarente (University of Genoa (DAD)) & Dr Mathias Mochi (Digital Gothic Project)
Fairies, witches and mermaids: The gothic myth and the terrible enchantment of the Dior house in Matteo Garrone's film

52 Jennifer Richards (Royal College of Art)
Lee and Tinks: The fairytale as muse in the works of Alexander McQueen
Sunday, 11 April 2021
27: 10:00 – 10:40 Plenary: What the Puck! or: An anatomy of the fairy – A spotter's guide to wings, wands etc.
Dr Ivan Phillips University of Hertfordshire
Introduced by Sam George
28: 10:40 – 11:10 Activity: Fairy Flash Fiction Writing competition
29: 11:10 – 11:55 Single Session:
48 Dr Madeline Potter (University of York)
'Hoofs and wheels': Chariots, theology, and myth in Sheridan Le Fanu's fairy stories

63 Dr Mario Valori (De Digitali Eloquentia – Le belle lettere)
Childe Orfeo to the dark world came

64 Dr Brittany Warman (The Carterhaugh School of Folklore and the Fantastic)
'You have set yourself to music': Fairy legend in Oscar Wilde's Gothic novel The Picture of Dorian Gray
30: 11:55 – 12:15 Tea/Coffee Break
31: 12:15 – 13:00 Parallel Session:
14 Dr Joseph Crawford (University of Exeter)
'Fairies of Albion': Fairies and fairy-lore in the works of William Blake

31 Desmond Huthwaite (University of Cambridge)
Fairy form in Charlotte Dacre's Zofloya
16 Morgan Daimler (Independent Researcher),br> Unseely to antihero: Dangerous fairies in folklore and fiction

59 Sarah Sproston (University of Wolverhampton)
A witch, a vampire, and a pixy walk into a bar: Friendship in urban fantasy

61 Ashleigh Taylor Sullivan (Swansea University)
Dirty deals and catching feels: The figure of the Goblin King in Indie paranormal romance
32: 13:00 – 14:00 Lunch
33: 14:00 – 14:45 Activity: A fairy workshop on outreach in the field of folklore studies for postgraduate students and ECRs
Dr Ceri Houlbrook University of Hertfordshire
34: 14:45 – 15:25 Plenary: Print grimoires, spirit conjuration, and the
democratisation of learned magic
Prof. Owen Davies University of Hertfordshire
Introduced by Kaja Franck
35: 15:25 – 15:35 Conference Close
Dr Bill Hughes Open Graves, Open Minds Project