'We mourned your death, we were saddened by your exile. We rejoice in your return' (Levi Holt, a descendant of the Nez Perce tribe, on the wolf).
The BBC this week broke the joyful story of Denmark's new wolf pack (Denmark gets its first wolf pack in 200 years ). The romance of the return of the Danish wolf was also covered by Patrick Barkham in The Guardian (04/05/2017). The wolves do not yet have cubs but the scene has been set after the female remarkably travelled 340 miles from its birthplace in Germany's Schleswig-Holsten region to pair with a male wolf in the Jutland area of Denmark.
Our Company of Wolves project has sought to bring attention to the demonisation of the wolf in fairy tales and myth and to humankind's hatred for, and deliberate extermination of, the wolf. Because of this we are sensitive to the notion that restoring the wolf, protecting the wolf, sharing our lives with the wolf, will allow for a lost culture to be re-born. For opponents of such projects, wolves can signify the return of an unwanted killer, aided by those who do not know what they are unleashing back into the wild. This is a debate we will be having with the public in our Being Human Festival event in November 2017 'Animal Human Boundaries: Banishing the Big Bad Wolf' (watch this space, announcements expected soon).
Garry Marvin, UK wolf expert, Prof. of Animal-Human Relations, and contributor to our project has argued that we can still honour our ancient relationship with the wolf, and that what affects them, affects us. He has also acknowledged that 'the wolf is a creature that must continue to carry the weight of its cultural creation' (Wolf, p. 180) and that humans will dictate (as they have for hundreds of years) when wolves will be permitted to live and where. It is crucial therefore to continue to debate our company with wolves.
Below a photo from OGOM's visit to the UK Wolf Conservation Trust (part of our conference proceedings in 2015).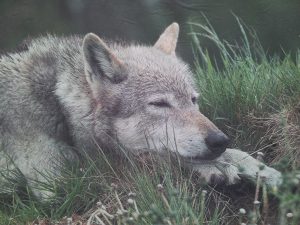 The Company of Wolves: Werewolves, Wolves, and Wild Children – Narratives of Sociality and Animality ed. by Sam George and Bill Hughes will be published by Manchester University Press in 2018.
Dr Kaja Franck (our werewolf expert) has Danish roots so she will thrilled that her mother country Denmark is the setting for the wolf's return!