Mummer or Pace egg Plays are often performed today in areas such as St Albans, Todmorden & Hebden Bridge. They have a hero-combat theme. St George fights and conquers all manner of enemies (The dragon, The Turk etc.). The other major motif is death and resurrection so those killed are 'cured' and will live to fight another day. These plays are secular, so the resurrection here often involves a magic cordial, but they do share the Christian theme of renewal and rebirth at Easter.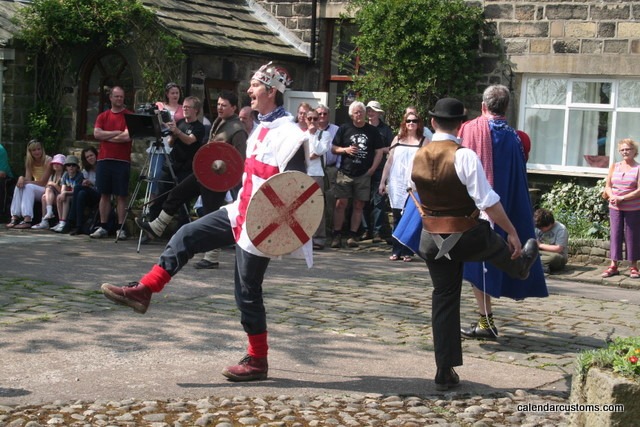 Todmorden in West Yorkshire is launching it's Centre for Folklore, Myth and Magic on Easter Saturday so do go along and find out more. You can pop into some of those wonderful bookshops such as Lyalls (Rochdale Rd, Todmorden OL14 5AA) and Border Bookshop (61a Halifax Rd, Todmorden OL14 5BB) that we have been hearing so much about too; peopled by interesting OGOM inspired staff :-).
Here in St Albans we have our own mummer's group The St Alban's Mummers. Animal mummers are popular: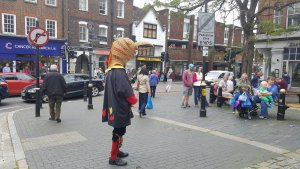 Animal heads have existed since medieval times, the nobility staged elaborate mummings at court involving swan heads, peacocks & dragons. Similar heads can still be found in St Albans in C21st (above) and are strangely unsettling to see.
A more sinister version of mummers emerged in folk horror's The Wicker Man (1973). A film which draws heavily on the sources in J.G. Frazer's The Golden Bough (1890).
Mikel Koven has written a provocative account of folklore in the film in relation to Frazer who coincidentally features heavily in my forthcoming book on the shadow and my essay on folkloric shadowless demons in the special edition of Gothic Studies on Folklore (next but one issue).
Folklore and Folk Horror are really thriving in Gothic Studies just now and the University of Hertfordshire have just launched their MA in Folklore Studies, the first of its kind in the UK. Applications are open!