Following my post on Gothic Shakespeare I wanted to mention the British Library's mesmerizing show Shakespeare in Ten Acts  There are over 200 rare and unique items on display including the only surviving play-script in Shakespeare's handwriting. Visitors are encouraged to imagine how audiences reacted to ground-breaking moments, such as the first performance in a Shakespeare play by a female actor in 1660. Some surprisingly eccentric pieces of Shakespearean history are also on display for the first time and I delighted in the circus prop from Peter Brook's radical 1970s A Midsummer Night's Dream. I fell in love with the image of Vivien Leigh as Titania in the 1937 production at the Old Vic too.  Leigh was once described as 'an exquisite piece of porcelain forever teetering on the edge of a shelf' and she was born to play this part – one hundred per cent fey!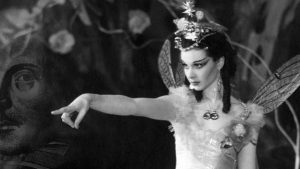 A Midsummer Night's Dream is something of a theme for me just now. I have always been intrigued by the figure of Puck in folklore and more recently I have been doing some intertextual readings of Julia Kagawa's The Iron King with my Generation Dead: YA and the Gothic students. In the novel the teenage protagonist Meghan is unaware that she is Oberon's daughter and that her best friend Robbie is actually Robin Goodfellow or Puck, a very old faery, who has ballads, poems and stories written about him. In fact Puck, is a half domestic fairy of the hobgoblin type, the best known of all hobgoblins. Mentions of him in Elizabethan literature are common (hence Shakespeare uses him as a character in A Midsummer Night's Dream). Interestingly, Kagawa's Puck is something of a shapeshifter and Pooka, the Irish Puck, often takes animal form, especially that of a horse. According to sources in the Norton Shakespeare Puck inherited his tricksy nature from the fairies but had to be given fairy powers by his superhuman father (see Robin Goodfellow: his mad pranks and merry jests, 1628). Shakespeare's Puck is mischievous and meddling he takes delight in the discord he has helped to sow among the mortal couples but he is not the originator of the discord, in fact he is the indispensable agent for setting things right. In this role he is both the mischief maker and match maker (Norton Shakespeare, p. 808). Hence he is the perfect vehicle for keeping Meghan away from Queen Mab's son Ash, the Prince of the Winter Court, and causing havoc with the would-be lovers in the Never Never world of Julia Kagawa's paranormal romance.
The Iron King draws on A Midsummer Night's Dream in other ways too. Shakespeare's play includes a subplot about a little changeling boy who is the subject of a quarrel between Oberon and Titania. This draws on the belief that fairies covet and steal human children. Some say golden haired beautiful children are thought to be desired by fairies to improve their stock! Sometimes humans are taken as servants or slaves (and midwives). In these stories the human child is substituted for a fairy changeling (unbeknownst to the parents). The changeling is knowing, strange and precocious, it does not behave like a child (See 'Changelings' in Katherine Briggs, The Fairies in Tradition and Literature, pp. 136-145).  In The Iron King, Meghan's little brother Ethan is taken by fairies and a changeling is left in his place. If you read the novel alongside Shakespeare you will see that this story in the play is narrated by Puck:
PUCK  The King doth keep his revels here tonight.
Take heed the Queen come not within his sight,
For Oberon is passing fell and wroth
Because that she, as her attendant, hath
A lovely boy, stolen from an Indian King.
She never had so sweet a changeling;
And jealous Oberon would have the child
Knight of his train, to trace the forests wild.
But she perforce, withholds the loved boy,
Crowns him with flowers and makes him all her joy.
And now they never meet in grove or green,
By fountain clear, or spangled starlight sheen,
But they do square, that their elves for fear
Creep into acorn cups, and hide them there.
(A Midsummmer Night's Dream 2.1.18-31)
Seeing Vivien Leigh as Titania and reading these passages from Shakespeare makes me more alive to the sources of British folklore. British artists too excel in depicting the world of the fey and Arthur Rackham's visualisation of Puck below looks to have had a strong influence on how film makers imagined Robbie in the trailer of The Iron King. Sadly, this project was never funded but maybe if Tinkerbelle waves her little wand and we all say we believe in hobgoblins it might actually be revived. Here's hoping!