I have always wondered how the devil came to be depicted as red with horns and cloven feet and I once heard that one of the first visual images of the devil depicts him as a blue angel. So did he begin his journey in art as blue and with wings not horns? I was first made aware of the diversity and terrible beauty in the many contradictory images of the devil when I reviewed the Magic, Witches and Devils in Early Modern Europe exhibition at the John Rylands Library in Manchester. I encountered blue, white, male and hermaphrodite devils in the images on display. 'The Devil in Calicut' in Pierre Boastabu's Histories (Paris, 1561) is one of the most memorable (and comical). It shows him to be something of an animal hybrid with Eagle's claws and a cat-like countenance (oh and with a smiling tusk or horn as a phallus). I am resisting endless innuendos re: feeling 'horny' but this might be one way in which we still associate sex with devilish acts in our language.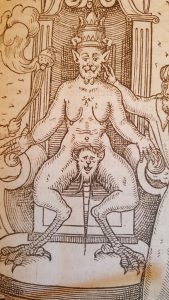 Elsewhere this wonderful depiction of the slaying of the white devil from the Shahnama ('Book of Kings') (Shiraz, 1542) is equally stunning.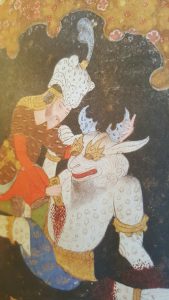 So how did the devil turn red and did this give rise to the image of 'painting the town red'? If this little history has excited your curiosity then I recommend a night in with your iplayer and Alastair Sooke whose research has focussed on visual images of the devil throughout the ages. You can see him explain with great aplomb 'How the Devil got his Horns.' There is lot of footage of him entering remote cathedrals whilst looking for the earliest images of the devil, Lucifer or Satan and yes he finds the contested blue angel that I had heard about!! I loved it. What the devil are you waiting for?
Another blue and white devil below: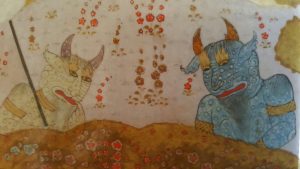 My favourite depiction of Satan will always be the rebel angel in Milton's Paradise Lost. Milton creates sympathy for the devil and what better example of an oxymoron for my poetry students than his image of 'darkness visible'. You have got to give the devil his due and Milton's Satan made it into my top ten shapeshifters!