I raised questions about visual images of the devil in my Better the Devil You Know post yesterday, even suggesting that he was once blue and winged rather than red and horned. Following this discussion Daisy alerted me to this wonderful blue devil from Giovanni da Modena. The Inferno, 1410, can be seen in Basilica di San Petronio, Bologna. He is spectacular I have to say and something of a giant. Thank you Daisy I am now convinced that the devil was blue for long periods in history (and your research sounds fabulous).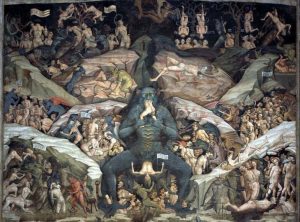 I have also been thinking about how imagery around satyrs and depictions of Pan are crucial to the story. The characteristics of these figures found their way into representations of the devil because the church had demonised them as pagan gods in an attempt to get the masses to follow the one true Christian God. The devil starts to take on some of the characteristics of Pan therefor and see below this sixteenth-century satyr's cloven hooves and horns. The devil has all the best tunes and he is often depicted as Pan-like playing the pipes!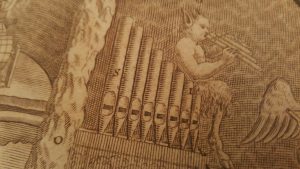 But when did he turn red? Part three coming soon!