Woo hoo…huge congratulations to Kaja who passed her PhD viva today!!! Dr Franck OGOM is very, very proud of you. It has been a joy and a delight to supervise you from day one. We are all so very pleased for you and I for one can't wait to see what you do next….
Here's a wolf cake to help you celebrate this gothtastic achievement!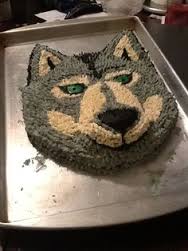 Thanks to Dr Catherine Spooner for examining the thesis and being such fantastic company. OGOM salutes you! Thanks are also due to Dr Andrew Maunder (internal examiner) and to Dr Rowland Hughes for his guidance on eco-gothic and the American wilderness.