Gothicky Merry Christmas OGOMERS!!
Pandora seemed to reopen her box in 2016 and no end of horrors were let loose upon the world from Brexit to Trump (with Bowie's death seemingly acting as a catalyst for things falling apart). Happily our year at OGOM was very successful and ended in triumph with Kaja passing her viva on the 16th December. We are currently working hard on the forthcoming Company of Wolves publications and I am busy plotting 'Books of Blood', a creative offshoot of OGOM, that will launch in the autumn of 2017 (watch this space). 2017 will see some changes and we will finally get our own research centre so it is something of a landmark year already. Thanks to everyone on OGOM Facebook and on the blog for their continued interest and unwavering support and to Bill and Kaja for their inspiration and hard work this year.
Finally there are two of my PhD students who I would like to send special messages to. Firstly Jillian, who has had to endure personal tragedy and heart ache this year (stay strong everyone is willing you on to the final hurdle) and Matt who is battling health issues and trauma and has just had a spell in hospital. Here's wishing you both health and happiness in the new year from OGOM
Have yourselves a Gothicky Merry Christmas!!
Victorian Christmas cards can get you in the festive mood after all nothing says Christmas quite like:
an unruly pudding
a scary root vegetable bearing gifts
a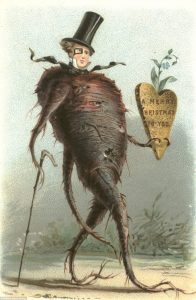 a creepy clown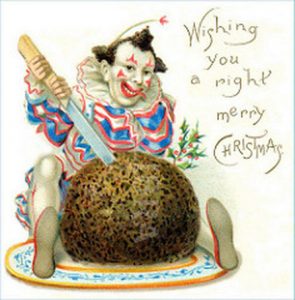 or pyromaniac birds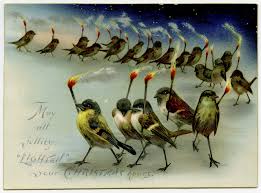 ha ha…don't you just love Victorian sensibilities!!
See you in the new year!!