'All humans are books of blood—wherever you open us, we're red' (Clive Barker)
Books of Blood: A touring exhibition and festival (2018-19)
An introductory workshop will run for Being Human 17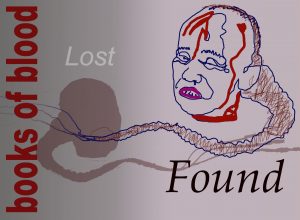 Title: Books of Blood: Objects Lost and Found
Date: 23rd November 2017
This gruesome 'show and tell' workshop sees images of mysterious, unique, and bloody objects 'lost' in the Science Museum's archives uncovered in a way that enables the curious history of each piece, and its relationship to blood and the body, to be sensationally recovered or 'found'. It allows for writing and drawing activities, based on Clive Barker's notion of the body as a 'book of blood' that can be 're[a]d'. Our participants' responses to the curious objects (in words and/or images) will form diverse narratives on 'being human' that will be preserved in the public space for others to enjoy.
This workshop, facilitated by Dr John Rimmer and Dr Sam George, takes place at The Old Operating Theatre 1.30-4.30. Details are available from the Being Human Festival site Books of Blood: Objects Lost and Found There is no need to book just drop-in and see us! The event itself is fee but entrance to the museum is £6.50 (concession £5.00).
Please note the museum is located on the garret, or attic, of St Thomas' Church. The entrance is through the bell tower and 52 steps up a spiral staircase. The museum is within walking distance of London Bridge Underground Station, Borough Market, Southwark Cathedral and other major attractions in the area including the rebuilt Globe Theatre, Tower Bridge, HMS Belfast, and the Clink Prison. You should look at the visitor information before making your visit.