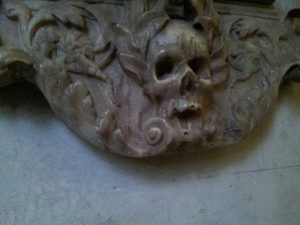 University of Hertfordshire to host 'The Urban Weird', a two-day programme of events on the theme of supernatural cities
'The Urban Weird' will take place at the University of Hertfordshire on the 6 and 7 April. The event will explore supernatural and magical cities and examine the significance of the 'urban weird' in all its various manifestations and cultural forms. Topics include: 'Weird Victoriana', 'Ghosts and Spectrality, 'Urban Myths and Fairytales', 'Paranormal Romance' and 'Weird Archaeology'.
This programme of events marks an exciting collaboration between the Open Graves, Open Minds group at the University of Hertfordshire and the Supernatural Cities  project at the University of Portsmouth. The festival will boast over 40 research papers; a Spectral St Albans Tour, exploring the magical and supernatural history of Hertfordshire's finest ghost city; a special workshop on mischievous spirits or 'boggarts', led by Dr Ceri Houlbrook; and a screening of the cult film Haxan: Witchcraft Through the Ages, introduced by Dr Mikel Koven, a specialist in folklore cinema.
The Open Graves,Open Minds research group is known for its imaginative events and symposia. These have included a three-day conference on shapeshifters, werewolves and feral humans, a first for a UK academy. Dr Sam George, Convenor of the project and Senior Lecturer at the University of Hertfordshire said:
"It's very exciting; this event is inspired by the weird or the eerie, and those uncanny or submerged histories that give play to the imagination and rise up to frame all kinds of spatial narratives. Day two takes place in St Albans, home to tortured martyrs, ghostly monks, pagan gods, witches, demons, grotesque carvings, winged skulls, Wermenhert, the lair of an ancient dragon or 'wyrm', modern-day Wiccan communities, folklore rituals and more…"
The Open Graves, Open Minds, project is also represented by Dr Bill Hughes, who will speak on urban fantasies of Paris and London, and Dr Kaja Franck, who will present her research on the troll in the city, urban fey and environmentalism.
Keynote talks will cover 'Supernatural Beliefs in Nineteenth-Century Asylums' (Professor Owen Davies), 'Dark City, Daemonic Architectures: Towards a Cartography of the Urban Weird' (Dr Karl Bell, University of Portsmouth) and 'City Demons: Urban Manifestations of the Pied Piper and Nosferatu Myths' (Dr Sam George).
To find out more about the event and see the full programme, please visit: https://www.opengravesopenminds.com/urban-weird-2018/full-programme/
For more information/images, contact the University of Hertfordshire Press Office on 01707 285770, Email: news@herts.ac.uk
 About the event:
 Date: 6th – 7th April 2018 Venue: University of Hertfordshire, de Havilland Campus, Hatfield, AL10 9EU
About the University of Hertfordshire's Open Graves, Open Minds project:
The Open Graves, Open Minds project began by unearthing depictions of the vampire and the undead in literature, art, and other media, before embracing shapeshifting creatures and other supernatural beings and their worlds. OGOM opens up questions concerning genre, gender, hybridity, cultural change, and other realms. The Project now extends to all narratives of the fantastic, the folkloric, the fabulous, and the magical, and its most recent research has been on tales of werewolves and how they, and the figure of the wolf itself, cast light on what it is to be human. https://www.opengravesopenminds.com/
 About the University of Portsmouth's Supernatural Cities project:
 The Supernatural Cities project is an interdisciplinary network of humanities and social science scholars of urban environments and the supernatural.  We aim to encourage the conversation between historians, cultural geographers, folklorists, social psychologists, anthropologists, sociologists, and literary scholars as they explore the representation of urban heterotopias, otherness, haunting, estranging, the uncanny, enchantment, affective geographies, communal memory and the urban fantastical. We will share calls for papers, work on collaborative funding bids and promote relevant research. http://supernaturalcities.co.uk/