Just a reminder that I will be in the Polidori room at the Living Frankenstein event tomorrow with a very special prop! I'm so excited. There are still tickets available….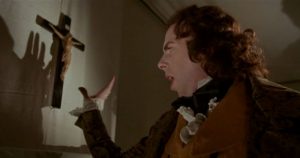 Dare to join us on Wednesday 23 May for the third in our Living Literature series, an epic thriller brought to life through immersive performances, talks, workshops and activities. Welcome to the world of Mary Shelley's Frankenstein!
Listen to chilling ghost stories by candlelight read by the feminist performance troupe Scary Little Girls, as Gothic Professor, Nick Groom (University of Exeter), sets the scene of that night in the 'year without a summer' at the Villa Diodati, where the first version of Mary Shelley's Frankenstein was created. Tread carefully through Victor Frankenstein's rooms in Ingolstadt, hear about Polidori's The Vampyre (the other creature created at the Villa Diodati) with Dr Sam George (University of Hertfordshire) and play with a historical vampire slaying kit. 
23 May 2018 | After hours | Senate House, London
Price: £20 Standard | £10 Concessions