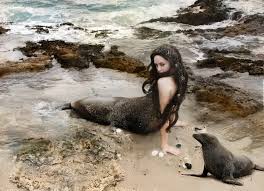 The 'Animal Kinship' panel at OGOM Company of Wolves included some discussion of the 'Selkie' or shapeshifting seal. This elusive creature was discussed in Peter Le Couteur's paper 'Sealskins: Finns, Seal Wives, and Mythmaking'. We were rather excited to receive this proposal I remember. Folklore involving selkies can be traced to the Orkney Islands and there are many sightings of selkie folk to draw upon and even poems commemorating them. This research paper whetted my interest (pardon the pun) and so I was thrilled to see a mention of the selkie in Scott Westerfeld's novel Afterworlds:
"What about a selkie?" Coleman suggested. "YA hasn't had many selkies."
"What the hell is a selkie?" Oscar asked…
…"It's a magical seal you fall in love with," Darcy explained.
"Just think of it as a portmanteau," Coleman said. "Combining 'seal' and 'sexy.'"
Oscar raised an eyebrow. "I don't see the appeal." (page 57)
The novel is gently satirizing the appeal of romance involving such shapeshifters and this extract is cited in Genre Guide: Paranormal Romances for Teens . There are some tentative definitions of the PR genre (I tend to use Roz Kaveney and Alison Waller then develop their ideas via Fred Botting) on this site and another list of YA Gothic romances. At least three of the books I choose for Generation Dead appear in this list: Shiver, Twilight and The Iron King (the most so far). The novel Raised by Wolves is also mentioned and I am researching animal parented children in literature and the idea of wolf children for the Company of Wolves book (deadline for papers pending people). No doubt Kaja has already read this one…..
Raised by Wolves by Jennifer Lynn Barnes
Adopted by the Alpha of a werewolf pack after a rogue wolf brutally killed her parents right before her eyes, fifteen-year-old Bryn knows only pack life, and the rigid social hierarchy that controls it. That doesn't mean that she's averse to breaking a rule or two