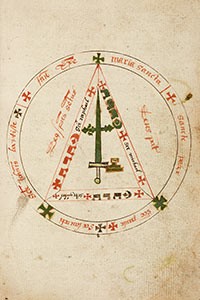 One of the courses I was teaching last semester was Renaissance Literature and the most enjoyable part was the exploration of magic on stage from Dr Faustus to The Tempest and the magical statue scene in A Winter's Tale. The influence of real life magicians on playwrights such as Shakespeare and Marlowe was not lost on the students and we had many interesting discussions about the conjurer John Dee. I was thrilled therefore to see a recent article by Mark Brown, Arts Correspondent in The Guardian, on John Dee in which he explains that:
Dee, known in his day as "the Queen's conjuror", was one of the most extraordinary Elizabethans, a Renaissance polymath who has fascinated people for centuries. He may have been the inspiration for Shakespeare's Prospero in The Tempest, and more recently he has intrigued artists such as Derek Jarman, who had him as a central character in his 1978 film Jubilee, and Damon Albarn, who wrote the 2011 opera Dr Dee.
At the Royal College of Physicians (RCP) headquarters in London, where remarkable books from Dee's personal collection go on public display for the first time, there is further intrigue as recent research tells us that a John Dee painting originally had circle of human skulls, x-ray imaging reveals Those interested in Harry Potter wizardry might like to consider the real history of magic here in the UK through figures such a John Dee….it's absolutely extraordinary.