Just when my research has turned to English werewolves this comes along. Thanks to Kaja for alerting me to this wacky wilderness Wilde/werewolf mash up. My first thoughts are what is Dorian doing in Epping Forest he is such an urban dandy? Also is there a portrait of Dorian as werewolf hanging in an attic somewhere in Essex? Is there method in the madness? I just can't stop thinking about this…the idea of the Dorian Wolf is engulfing me. November has spawned a monster indeed.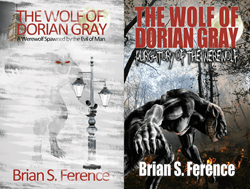 Brian S. Ference has just published The Wolf of Dorian Gray – A Werewolf Spawned by the Evil of Man
"Sage tried to ignore the flash of blood, as the image of the giant grey wolf rushed back into her mind. During one of her nightly gatherings in Epping Forest, she was astounded to come across the animal—which was thought to have been hunted to extinction in England well over two centuries ago."
So begins The Wolf of Dorian Gray. This expanded edition of the classic philosophical fiction by Oscar Wilde, features all-new scenes in a compelling tale of love, lust, and the werewolf spawned by the evil of man. The story, set in late 1800's England, follows the life of Dorian Gray, who through ancient Romani magic's and the skills of an astonishing artist has had his fate and soul irrevocably linked with the last remaining wolf in the forests of England. Dorian revels in the experiences of first love, delights in the art and beauty of the world, relishes the freedom of his youth, and is awakened to the many pleasures of life. His friend and mentor, Lady Helena, provides a guiding hand as he struggles with his conscience and the purpose of living. Meanwhile, the wolf begins to grow and change into a hideous monster that is ravaging the countryside. What will happen when the wolf comes to London? Can Dorian save his soul? Or will the beast consume it and his life, along with those of his friends and loved ones? Complete with adventurous romance, harrowing escapes, hell-bent revenge, and a werewolf terrorizing the gentry; The Wolf of Dorian Gray transcends this classic work of literature into a compelling and most delicious read. Read up to 20% of the book free at http://www.thewolfofdoriangray.com.
Dracula appears in wolf form but what kind of animal would Dorian be? He would have to be a exquisite white cat in my opinion. Do join in the discussion. Kaja and I will be discussing wolves and werewolves again tomorrow pre viva and now our minds are blown…..help us make sense of this if you can…we'd love to hear more.
I have just ordered this because I really need to know more and it will add some intrigue to my English werewolves paper!