Here's a quick update on my werewolf research trending ahead of Halloween. I'm going to be doing some radio over the next few days and I'll be taking part in The Big Conversation on Friday which is where academics pitch their research to a wider audience and attempt to create a dialogue worldwide. I will be writing my piece tonight.
Also I wanted to make mention of this wonderful painting. Whilst I was in Manchester I made a special trip to see this work in Salford and it is the perfect image for my focus on the werewolf as spectre wolf. It was painted in 1904 by John Charles Dollman.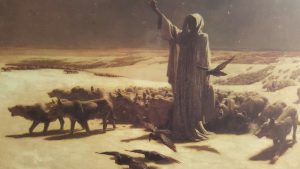 The story so far:
Paranormal/popular science coverage:
http://mysteriousuniverse.org/2016/10/new-explanation-for-recent-uk-werewolf-sightings/
http://phys.org/news/2016-10-guilt-werewolf-sightings-expert.html
Local News
http://ilovemanchester.com/2016/10/21/ghosts-monsters-and-werewolves-manchester-goes-gothic.aspx
http://www.yorkshirepost.co.uk/news/truth-behind-those-sightings-of-hull-s-beast-of-barmston-drain-werewolf-1-8193524
http://www.hulldailymail.co.uk/hull-werewolf-sightings-caused-by-collective-guilt-expert-says/story-29837064-detail/story.html
University News Pages
http://publicnow.com/view/16976EF7B3DFBDB8E64557D5DFD0D282CCFA163A
https://www.herts.ac.uk/about-us/news/2016/october/our-collective-guilt-is-leading-to-a-rise-in-werewolf-sightings,-says-expert
Look out for me on the airwaves over the weekend and don't leave home without your wolf bane. I'll be posting again on Halloween. Have a hauntingly good weekend. I can't wait to hear what everyone is up to leading up to the witching hour!