I read this account of the Gubblecote Witch in a very old pamphlet on Gothick Hertfordshire, uncovered on a market stall in Hitchin. For some reason I was really unsettled by this story, which is a true one, it took place not far from here (now marked on my map).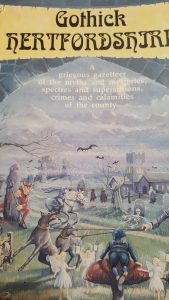 It was in the year of 1751 that Ruth Osborne, an old woman of Long Marston, was accused of witchcraft. Her accuser was John Butterfield, a publican at Gubblecote. He claimed the woman had bewitched his cattle when he was a dairyman, stopping them from yielding milk. The death penalty for witchcraft was abolished in 1735 but he had roused local feeling against Ruth. It was not long before town criers announced that there would be a ducking for witchcraft at Long Marston on 22nd April of that year. Ruth was driven from her home by an angry mob wherein she fled to the workhouse with her husband John. They eventually sought sanctuary in the church at Tring, but when the mob threatened to torch the town, they were given up. The two were taken to the Black Horse at Gubblecote and from there to Wilstone Green, where they were stripped and bundled into sheets with their hands and feet tied. In this helpless condition they were 'swum for witchcraft' in a pond known as Wilstone Wear. They were both over seventy at the time and 'crazed with age', according to curate Gilbert White. Ruth was dead by the time they had finished and John died soon after.
At the coroner's inquest some 30 people were found guilty of wilful murder. Ruth Osborne had survived being dragged across a pond on the end of a rope, left in her wet sheet while her husband was ducked, thrown in the pond again, and left dazed on the bank. But when they dragged her across the pond the second time, a man named Thomas Colley amused the crowd by pushing her face down with his stick. She grasped the stick and pleaded for her life but he wrenched it out of her hand and thrust her under again. On finally being taken out, now quite naked, she was pronounced dead. She died partly from suffocation and partly from exposure. When it became known that Colley had collected money from bystanders for witnessing the ducking he was sentenced to be hanged. The locals claimed it was a hard case to hang a man for destroying an evil old witch who had done so much mischief with her magic. Colley was hanged, despite the protests, at Gubblecote Cross where his body was hung in chains. It remained on that gibbet for many months, and a ghost was known to haunt the spot in the form of a black dog. Local people ceased to walk that lane at night for fear of Ruth's retribution.
Below is an illustration of Ruth's ducking wrapped in the sheet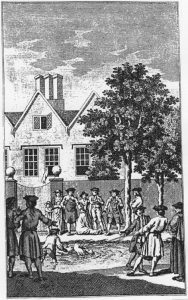 This is my own inspiration for folk horror. It would make a compelling play. I have circled Gubblecote on my Gothick Hertfordshire map. Some wonderful place names here. A trip to 'Grim's Ditch' or Devil's Dyke' anyone?