It is not often that the two strands of my research, botany and the undead, come together and I get very, very excited when they do (it is even less frequent that botany makes front page news).  Enter the Corpse Lily or Amorphophallus Titanium. It takes ten years to reach its flowering season and then only blooms for 24-36 hours during which time it gives off the scent of rotting flesh or dead meat to attract insects to its giant stamens and pistils. Did I mention it also resembles a giant phallus with purple fleshy foliage!!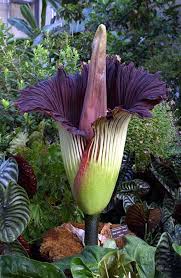 I have written on monstrous flowers before on the blog (see Bloody and Monstrous Flowers for example) and they have always interested me. They also  feature in a number of well known narratives from Little Shop of Horrors to The Day of the Triffids but none of these stories compare to seeing one of these rare lilies in full bloom with your own eyes!! I have been lucky enough to see one at Kew in the past but this latest is currently horrifying visitors to New York Botanical Gardens in the U.S. It has been reported in The Guardian Corpse Flower in New York Botanical Gardens Blooms
And there are two videos of visitors to the flower from The Guardian and the BBC
Foul Smelling Corpse flower Finally Blooms
By coincidence I have been working on a very exciting collaboration with Ryan Feigenbaum, Andrew Mellon Fellow at the New York Botanical Gardens, which takes the shape of a digital exhibition  entitled Poetic Botany: Art and Science in the Eighteenth Century. It hasn't yet opened officially but you can get a sneak preview here
Poetic Botany: Art and Science of the Eighteenth Century
And see me and the other contributors, their specialisms and publications here
And now back to some botanising in my local hedgerow…….