Congratulations to Prof. Owen Davies who has just become the new President of The Folklore Society. The Folklore Society is a learned society devoted to the study of traditional culture in all its forms. It was founded in London in 1878 and was one of the first organisations established in the world for the study of folklore.
Owen, a historian with expertise in witchcraft, magic and ghosts, is my mentor and esteemed colleague at the University of Hertfordshire; he's a long standing friend of OGOM. We are excited to announce that he will be joining us for our fairy conference 'Ill Met by Moonlight' 8-10 April, 2021. His plenary talk is entitled 'Print Grimoires, Spirit Conjuration, and the Democratisation of Learned Magic'. We wish Owen success and happiness in his new role and look forward to future collaborations.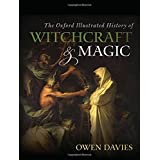 We recommend taking a look at Owen's long list of publications. His most recent works include the Oxford Illustrated History of Witchcraft and Magic (2017); a Wellcome Trust-funded Open Access book with Francesca Matteoni entitled Executing Magic in the Modern Era: Criminal Bodies and the Gallows in Popular Medicine (2017); and a new major monograph for OUP, A Supernatural Struggle: Magic, Divination and Faith during the First World War (2018).