Congratulations are in order for OGOM's Kaja who has married Duncan in a beautiful ceremony in London. Guests gathered at Battersea Park for the happy couple to marry on the bandstand in the warm summer sunshine surrounded by family and friends. After a delightful champagne reception at the Pump House there were games before a customised London bus ('the wedding express' below), collected guests to take them to the reception in Brixton.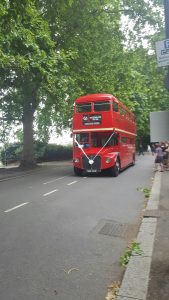 Kaja broke with tradition in choosing to give a speech herself and to share the first dance not with Duncan but with her Dad Julian. There were quotations from Romeo and Juliet and Duncan indulged Kaja's gothic sensibilities with the table plans and gothic table settings which featured vampire books and stakes!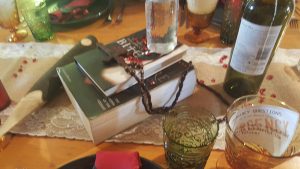 The gothic inspired table themes included 'Seelie Court', 'Cinderella', 'Gothic Romance' and 'Lycanthropes' (see plan below).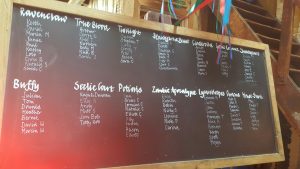 Ooh and they walked down the metaphorical isle to a live version of 'Love Song for a Vampire' played on an acoustic guitar (my favourite bit). Kaja did not disappoint with a jaw dropping black lace, Spanish-inspired gothic gown which was a delight to behold (and of course Duncan looked pretty dapper and handsome too).
Have a wonderful life together both of you and thank you for a very special day on behalf of all at OGOM!!
'The greatest gift…you'll ever learn…is just to love and be loved in return'