OGOM wishes you a very happy holidays. We're looking forward to ventures new in 2018. Look out for our January newsletter (please make safe our email address: ogomproject@gmail.com before then so it does not go to your spam). If you are feeling inspired over the holidays why not sit down with a winter warmer or glass of red and write up your abstract for OGOM and Supernatural Cities Present: The Urban Weird (Deadline 1st January). We would love to read your ideas and meet with you at our conference in April. There will be folk horror, boggarts, city demons. mysterious pipers, a magical, uncanny tour and much, much more!!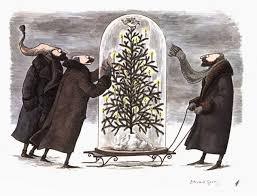 I will shortly be heading north for the festive season but before I depart I'd like to say a big, big thank you to Bill and Kaja for their contributions to OGOM in 2017 and to you our loyal followers for your interest and support. Thanks especially go to those who attended our two Being Human events. Long may it continue. I can't wait to plan our agenda for 2018. Watch this space it is going to be oh so not quiet!! Look out for my A-Z of angels over the break, beginning with Clarence who is referenced in Every Time A Bell Rings an Angel Gets His Wings
Do let us know your favourite films or books featuring angels!!.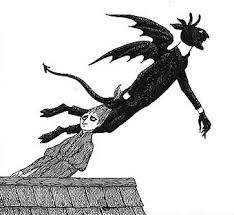 A magical festive season to you all!!!
Take very good care
Sam, Bill and Kaja (aka the OGOM dark angels) xx