The Royal Society of Literature is posing the question 'What have been your scariest reads?' to celebrate the 200th anniversary of the publication of Frankenstein. Feel free to comment below if you have any good ideas. I think mine is Dean Koontz novel.
Addendum: The Dean Koontz novel which I mentioned above was called Fear Itself  (1998). I must have read it when I was about 14 or 15 (thank you local library for letting me take out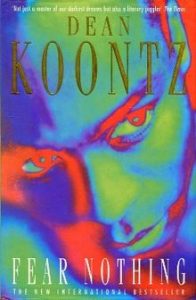 inappropriate books). It's about government conspiracy theories and animal testing and biological warfare.  The cover of the edition which I took out was particularly memorable and gave me a nauseous headache which seemed to fit the tone of the book very well.
The scene that has stayed with me the most (though I may be misremembering it) was when a police officer, who has been exposed to the chemicals being tested, is telling the protagonist, Christopher Snow, about the side effects. One of the side effects is increasingly violent dreams that involve a young female relative. The conversation ends with the officer telling Christopher that he knows that at some point in the future he will act on his dreams. Even today it makes my stomach clench.
A more canonical Gothic text which unnerves me is 'The Great God Pan' (1890) by Arthur Machen. It is the perfect example of how obscurity functions in the Gothic. The entire time I was reading it I felt I was at the edge of darkness peering into the gloom filled with a sick sense of dread.