Happy Halloween OGOMERS! I have finally got round to carving my lantern. I used the traditional swede or turnip that we had in Cumbria when I was a child. This is my Cat 'o' Lantern!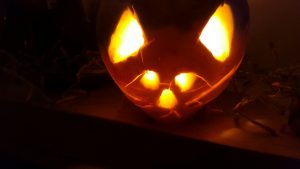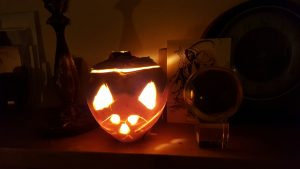 I used to go to my grandma's house at Halloween it was out in the sticks in Cumberland as it was so named then…and there was always a turnip lantern contest in the village hall. It would have blown everyone's minds to see a pumpkin! I genuinely did not encounter a pumpkin until I was in my twenties. The swede lanterns aged quickly when lit and looked like a table full of shrunken heads…like this ancient turnip jack o' lantern….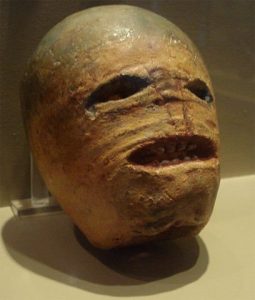 Granny's house was the last one in the village and was surrounded by a haunted dell…my sisters and I used to dare each other to run through it alone in the dark. There were lots of hares and toads by day so we used to say they were witches' familiars. We once also put on a spooky version of Cinderella which had a witch instead of a fairy played by yours truly. My sisters delighted in dressing up prettily (though Caroline cross-dressed as the prince) but I was busy finding a broom stick. I remember I had to burst into the room and scream 'I am the witch of this sad piece, my villainies will never cease'! Oh yeah…I forgot to mention the whole play was in rhyme. I guess we were an unusual family. As if it could not get any spookier granny's house also had a nest of pipistrelle bats in the roof and they used to stick to the windows and look in at you from the outside like ugly spectre mice. She had them smoked out and the nest walled up when I was 12. After the lantern competition and play or theatricals we used to turn out all the lights and take turns telling ghost stories. Both grandma George and Granny Clucas were rather too good at this and both claimed to have seen ghosts. I was genuinely terrified. When I was a bit older I was allowed to read some of my favourite witchey stories aloud to the guests and I remember I liked this one….
Suppose You Met a Witch
Suppose you met a witch…there's one I know,
All willow gnarled and whiskered head to toe.
We drowned her at ten foot bridge.
Last June – I think –
But I've often seen her since at Twilight time
Under the willows by the river brink,
Skimming the wool white meadow mist
Astride her broom o' beech.
And once, as she flew past, with a sudden twist
And flick of the stick she whisked me in
Head over heels, splash in the scummy water
Up to my chin –
Yet there are witless folk who say they don't exist.
But I was saying – suppose you met a witch,
Up in that murky waste of wood
Where you play your hide and seek.
Suppose she pounced from out a bush,
She touched you, she clutched you,
What would you do? No use
In struggling, in vain to pinch and pull.
She's pinned you down, pitched you in her sack,
Drawn tight the noose.
There's one way of escape,
One word you need to know –
W.A.N.D. Well,
What does that spell?
They learnt it years ago,
Two children- Patrick and Miranda – clapped in a witche's sack and trapped
Just as you might be. He
Was a mild dreamy boy, musical as a lark in the dark
Of the jolting sack he sang. She was quick in all she did, a nimble wit,
Her brain was as a hive of bees at honey time.
And Grimblegrum – that was the witches name,
took them home.
Ian Serraillier
See you at the witching hour…..x