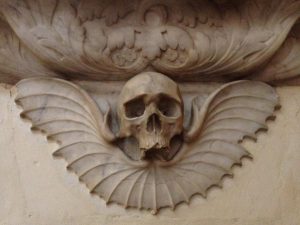 Following the success of our Supernatural St Albans Hallowe'en Tour, and back by popular demand, we are undertaking our spook-tacular tour of St Albans as a festive treat on Saturday 8th December. Led by OGOM's Dr Kaja Franck, the trip will be exploring the magical and spectral history of Hertfordshire's finest Gothic city. The event is informed by the research we carried out for our Urban Weird project in collaboration with Supernatural Cities.  We have explored the weird and the eerie, and those uncanny or submerged histories that give play to the imagination and rise up to frame spacial narratives.
St Albans is home to tortured martyrs, ghostly monks, pagan gods, grotesque carvings, an ancient dragon or wyrm's lair, succubi, winged skulls, witches, Wicca communities, folklore rituals, and more. 
Details:
Meet at the Clock Tower, St Albans, 3.30pm. The tour lasts 90 minutes. Price £10.00 to be paid in cash on the day. Make sure you wrap up warm, wear sensible shoes, and bring a torch as we will be out after dark!
To book please email: K.A.Franck@gmail.com