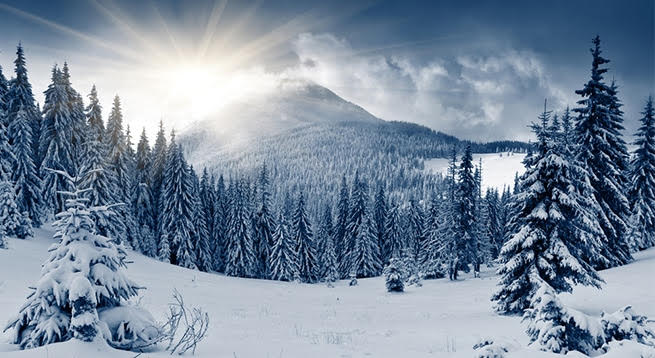 This sounds fabulous: a podcast from one of OGOM's favourite collaborators, the award-winning novelist Marcus Sedgwick. Marcus writes:
On December 30th I'll be a guest on The Folklore Podcast, kicking off an evening of talks in an event titled Rural Gothic Christmas Ghosts. Since I now live in the French Alps, I thought it might be fun to take a snowy walk through the landscape of these mysterious mountains, and chat about half a dozen or so of the stories I've come across since moving here. Tickets for the event can be ordered here.
I've always had an interest in folklore of all kinds. But I'm not an academic, I'm a writer. This means two things. The first is this: although, ever since I started writing, I had a strong desire to work with folklore, there were, and remain, very few opportunities to publish retellings of traditional stories. When I set out, it seemed there was a small club of two or three people who got to do all this work, and I felt I wasn't going to be able to break my way in. Instead, therefore, I began to find ways to work folklore into original fiction, and so I did in various books, such as The Dark Horse, The Book of Dead Days, My Swordhand Is Singing, and Midwinterblood, to name a few. The second result of my not being an academic is this; I adapt freely. Since I'm not publishing academic studies of folklore, I have the freedom (and in fact am frequently obliged) to change the details of the stories I come across, in order to make them work successfully in a modern narrative. That being said, I always try to remain faithful to the feeling of the tale I am working with.
So on December 30th, I'll be offering a small smorgasbord of weird tales, and a glass of Génépi, from the high and snowy land known as the Alps. The first point to note is that many of the tropes and characters to be found here are strangely familiar to anyone with even a passing interest in folklore. There are, of course, the accustomed witches and werewolves, fairies and spirits that we see in British and other European folklore, and yet all have their particularly Alpine twist. For example, exorcisms may be common enough throughout the world, but where else would you come across the exorcism of a glacier? A practice, incidentally, that is recorded to have happened as recently as 1818.
So there'll be stories of wolves, werewolves, wild hunts and beasts. There'll be a green man and a ghost, a sinister straw doll coming to life, and a séance in a sanatorium. And in a disappointingly un-alliterative saga, I'm going to talk about the Possessed Children of Morzine. Morzine is best known today as one of the main resorts of the Portes-du-Soleil ski area, and if all the Alps brings to mind is ski-mask suntans and Heidi, this story alone should be enough to display the dark side of this mountainous landscape. Many readers will be familiar with the most infamous French case of possession, that of Loudon, in the early 17th century, the story that gave rise to Huxley's book, The Devils of Loudon, and later Ken Russell's best film, The Devils. According to French historians, the possession in Morzine ranks only second behind this, and relates to a series of supposed possessions that lasted for at least 13 years.
The story starts in 1857. On 14 March, a young girl called Péronne, upon leaving church, hears cries nearby. The church stands right beside the river that cuts through the lower quarter of the town, and Péronne apparently witnesses and assists in the rescue of a friend, a girl of similar age, who has fallen in the river and is half-drowned. At first nothing seems amiss, but later, at school, Péronne falls into some kind of trance. Later, in May, while watching the flocks in the pastures, she and a friend, Marie, again fall into a somnolent state, and are found clinging to each other, rigid. Their character begins to change, and they become prone to outbreaks of violence and bursts of obscenities. Finally they admit that they have been 'touched' by an old woman in the neighbouring village of Les Gets, today another chichi ski resort. As we recognise so often in such stories, this moment of accusation is the spark that fires a whole series of allegations and further cases of possession. Very soon, all the girls in the convent school are possessed, and are obliged to cross themselves almost continually. On August 15th, during High Mass, the devils seem to pass into a number of young women as well, who let out a tremendous wailing and crying during the service. A doctor is called from Thonon, who arrives and declares the girls are afflicted by demonomania, a diagnosis at first supported by local priest, who multiplies the numbers of exorcisms he's been making. Years pass. It's 1860. By now, Morzine, along with the rest of the Savoy, has become French. The demons continue, unabated, but by now the priest has changed his tune. He tells his flock that he made a mistake, and that the sufferers are victims of natural disease. His parishioners are not impressed, however, rush the pulpit, and would have seemingly torn him limb from limb were it not for the invention the clerical staff present. Enraged, a group of villagers now identify a former priest of the town as the culprit, and decide he is to blame for all their woes. One night, they descend from the mountains towards Lake Geneva, where the priest is now retired, falling upon a ruined chapel once built by this Abbot. Not finding the priest, but his black dog instead, they fall upon the animal, slashing it to pieces with sabres, and burying its liver in the churchyard. They return to Morzine, claiming victory, and yet the story rumbles on for another ten years, possibly more…
Lots has been written about the possessed of Morzine, and all the usual culprits (e.g. ergot poisoning) and prejudices (e.g. mass hysteria) arise. As so often however, the truth seems lost to the mists that frequently cap the mountains. For more detail on that story, and all the others, please join me on 30 December.