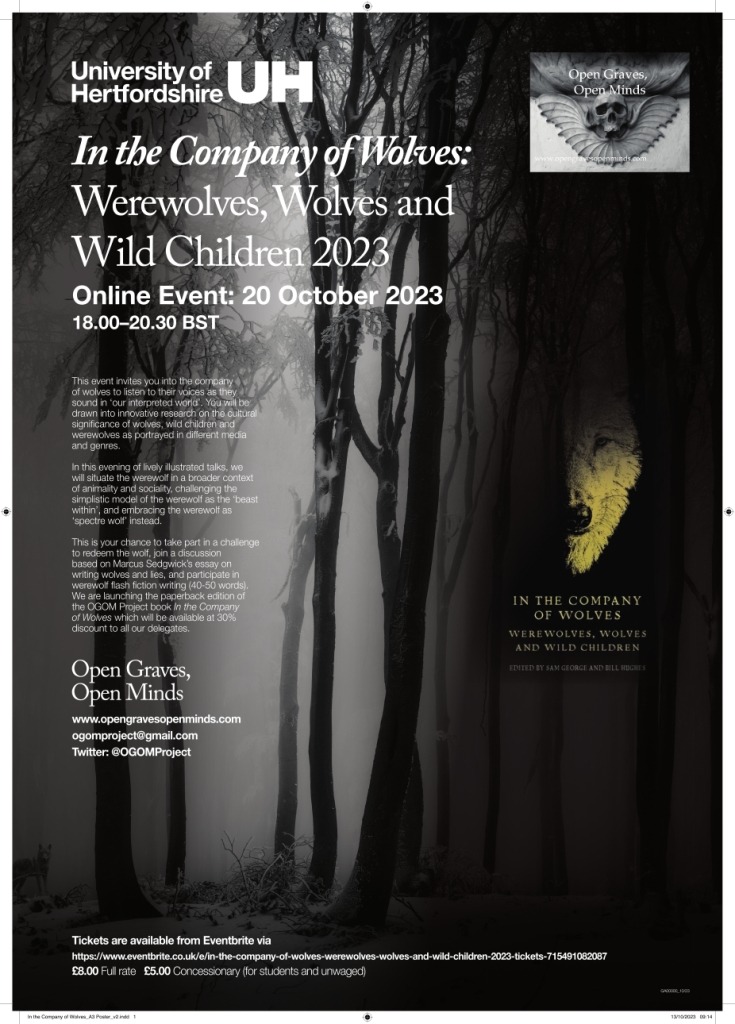 We're excited to share the fabulous poster for the forthcoming online event In the Company of Wolves: Wolves, Werewolves and Wild Children 2023. We look forward to seeing you and joining you in a lively discussion on representations of wolves and wildness, prompted by talks from five engaging speakers in the fields of literature and culture: Sam George, Catherine Spooner, Bill Hughes, Kaja Franck, and Ivan Phillips.
We will explore the image of the wolf as savage and deceitful, its place in the environment, and how through the figure of the werewolf it illustrates ideas of human animality. Questioning the idea of the wolf as monstrous and duplicitous, we will ask if the Big Bad Wolf can be redeemed. Then, for those inspired to creative writing, you'll have the opportunity to express these ideas afterwards in short pieces of flash fiction.
This event commemorates the life and work of the late Marcus Sedgwick, novelist, who contributed to the book and had been a generous collaborator with the OGOM Project from its inception.
We are making available a comprehensive set of resources and there is a special discount for guests of 30% on the paperback of our book In the Company of Wolves: Werewolves, Wolves, and Wild Children (ed. by Sam George and Bill Hughes).
Book now to avoid disappointment! Tickets are available here; booking closes 19 October.