Tomorrow marks the publication of the eagerly awaited 'Folk Horror: Hours Dreadful and Things Strange' by Adam Scovell (Auteur publishing, 2017). Scovell has defined such genres in relation to (mostly British) landscape as 'the evil under the soil, the terror in the backwoods of a forgotten lane, and the ghosts that haunt stones and patches of dark, lonely water; a sub-genre that is growing with newer examples summoned almost yearly' ('Where to Begin with Folk Horror'). Adam Scovell, Mark Fisher and Robert Macfarlane are the enfants terrible of British Folk Horror, a term coined by Mark Gatis in A History of Horror for BBC4 in 2010.
The English eerie is quickly becoming a subgenre of the British folk horror movement. I presented on this phenomenon at the Supernatural Cities conference in Limerick recently in relation to the Hull werewolf. Fisher's The Weird and the Eerie is on my bookshelf and I've blogged about the BFIs Where to Begin With Folk Horror, compiled by Scovell, in previous posts. Now, to mark May Day, Michael Newton has published an article on 'how folk horror is flowering again in Brexit Britain'. His insightful and informative article 'Cults, Human Sacrifice and Pagan Sex' appeared in The Guardian earlier this week.
May Day in St Albans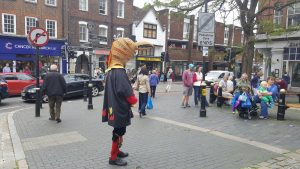 This latest analysis by Newton coheres with my own concluding remarks at the conference which dwelt on hauntings, absence, extinction and environmental damage. I held that it is humans, not wolves or the supernatural, that we should be afraid of. And it is almost a rule in folk horror that the supernatural is undermined, that the evil is entirely human: that is the point. The cultists are the cinema audience. The pagan rite we are witnessing is the film itself. A sense of complicity was always part of folk horror. As Newton points out 'The killing crowd in these movies is us'.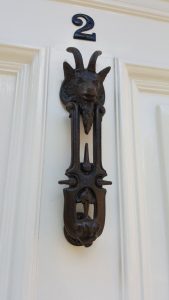 Above should I be afraid of my neighbour? Below its Merrie England again in St Albans!