Last week I was in Romania at the University of Timisoara for the Beliefs and Behaviours in Education and Culture conference. My keynote was on the representation of Romanian folklore in British and Irish fictions of the undead. Stoker never travelled to Transylvania, his material for Dracula is entirely informed by the books he was reading from travelogues to histories and importantly for me, folklorist accounts of the region. His knowledge of folklore came from British traveller Emily Gerard's 'Transylvanian Superstitions' (1885) and Sabine Baring Gould's Book of Were-Wolves (1865). I am interested in how we might assess his ambiguous legacy regarding the representation of Transylvania in twenty-first century fiction (in particular in intertextual writings such as the YA gothic genre). Amongst the other plenaries were Prof. Ingrid Schoon, presenting on 'Diverse Strategies and Successful Adaption in the Transition to Adulthood', which I found useful for teaching my Young Adult Fiction module which explores adolescence, and Prof. Clive Bloom whose paper was entitled 'Dracula and the Pyschic World of the East End of London'. 
I also gave a presentation on the Open Graves, Open Minds project at an educational workshop with Dr Marius Crisan. Marius is the author of the Birth of the Dracula Myth: Bram Stoker's Transylvania (2013). I first met him at the Bram Stoker Centenary celebrations in 2012. He is a gracious and kind host and a dedicated teacher of Romanian literature.
Prof. Bloom had some potentially ground breaking material to share with us about an Icelandic version of Dracula that was published in 1901. The book which translates as 'The Power of Darkness' has a preface by Bram Stoker, but the story is different to the Dracula we know. In this version Dracula is the same person as Jack the Ripper and the murders are described as 'butcher work'. There is much more of a focus on the East End of London, in particular on prostitution and uncleanness, or lack of purity. Prof. Bloom will elaborate on these findings at the Dracula conference in Dublin in September. This is very interesting indeed as it would appear to anticipate shows such as Penny Dreadful and postmodern works such as Newman's Anno Dracula both of which mash-up the characters of Dorian Gray, Dracula, Jack the Ripper etc. to great effect. How strange it would be if Stoker had intended this all along. My only reservation is that in relocating the killings to the East End of London during the reign of Jack the Ripper the supernatural elements of the vampire myth are severely undermined. It will be interesting to see how this is received in Ireland in the autumn.
After the conference there was time for excursions to the countryside in 'The Land Beyond the Forest', to the Banat region where I encountered some woodland houses that would not be out of place in a fairy tale.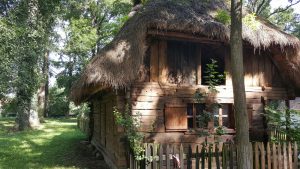 There was also a beautiful eighteenth-century church made of wood, with paintings and religious icons.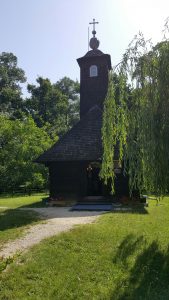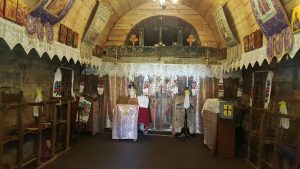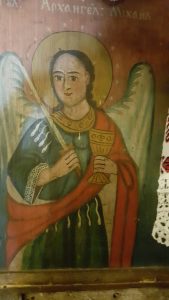 I was struck by how plentiful the country is, everywhere is full of walnut and cherry trees and there are grape vines growing in every porch. I even saw melons and skeps for bees and of course the plums from which they make their famous brandy known as pălincă.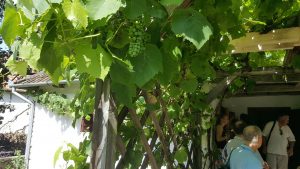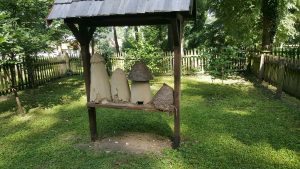 The town of Timisoara is important to the history of Romania. It was gifted a striking statue of Romulus and Remus suckled by a She-Wolf to mark its relationship with Rome. It was here that Ceauceascu opened fire on civilians and disappeared the people who opposed him. If you look closely at the buildings in the main square you can see that they are riddled with bullet holes and there is a plaque honouring those that died outside the cathedral below. Ceauceascu reputedly banned the novel and film of Dracula so those coming of age in Romania in the 1980s would not be familiar with the country's most infamous resident.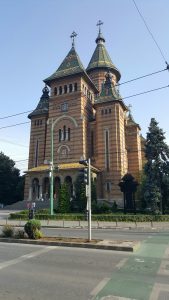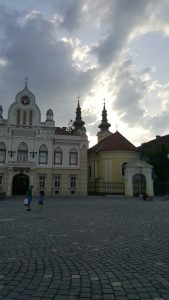 I want to thank Dr Marius Mircea Crisan and Dr Roxana Andreea Toma for their kind hospitality and for introducing me to some wonderful Romanian cuisine. We joked about Harker's comments about Transylvanian food in Dracula. References are made to robber steak, paprika stew, eggplant stuffed with forcemeat ('impletata') etc. but it is clear that he never tried the Banat pancake or he would most certainly have noted the recipe for Mina!  This is from the region of South West Romania, known as Banat, it reflects the rich and exotic history of the place. The pancake is baked in the oven, stuffed with raisins, vanilla, and quark cheese, and topped with walnuts and a fluffy light meringue. It really does have the power to transport you to a world that can only be imagined (until you have journeyed there).  Needless to say, I thoroughly enjoyed my trip (my second to this region), and I'm inspired to continue my research into folklore and fiction.  Transylvania did not resemble 'The Dark Side of Twilight' but I did find myself at 'the centre of some sort of imaginative whirlpool', in a land full of wonder where castles are commonplace and people are not afraid to dream.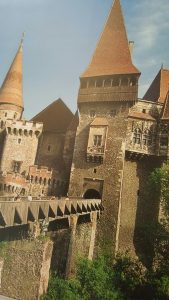 Tell not a breath of how I met my death,
Say I could not tarry, I have gone to marry
A princess – my bride is the whole world's pride
(From 'The Miorita', the Romanian folksong represented in Marcus Sedgwick's novel, My SwordHand is Singing, p. 33).