It is over ten years since Sophie Lancaster and Robert Maltby were attacked in Stubbylee Park, in Lancashire, reputedly for being 'goths'. Rob, who was punched unconscious and put in a coma by his assailants, eventually recovered (though he suffered memory loss) but Sophie died from her injuries (she was repeatedly kicked in the head whilst shielding Rob). The attack was so brutal that her body bore the imprints of the attacker's boot marks after they repeatedly stamped on her face and doctors had to try to reattach pieces of her scalp, where her braids had been torn out by the roots. She was 20, a quiet girl, who had adopted an alternative lifestyle; she had a place to study literature at university. Both Sophie and Robert self identified as 'goths'.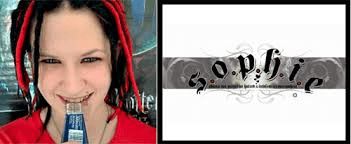 Because Sophie was denied a voice and Rob could remember little of what happened, others have come forward to tell their story. My research interrogates such representations, in particular, Black Roses (2012), the poetic sequence written by Simon Armitage in the voice of Sophie, which started life as a docu-drama for Radio 4 (2011); and Nick Leather's BBC3 drama Murdered for Being Different which aired six years later in 2017 and tells Robert's story. Armitage gothicised Lancashire as 'a place where shadows waited, where wolves ran wild'. These marauding wolves, the feral youths who had attacked Sophie, were symbols of 'Broken Britain' for the right-wing media in 2007. I aim to raise questions about such representations and ask how hate crime against subcultures is viewed a decade later in 'Brexit' Britain, and if Goth culture still feels a kinship with Sophie.
Maltby recently broke his ten-year silence on the attack when he remarked that 'The Goth Thing was an Oversimplification' (The Guardian, 15 June, 2017). He argued that the emphasis should be on the killers and not their Goth victim. To Maltby, the media focus on the couple's appearance in the aftermath of the crime felt like a form of victim-blaming: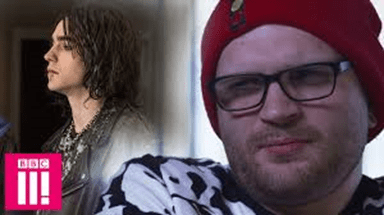 'the goth thing was also an oversimplification of a much broader social issue,' he explains. 'Life hasn't progressed in these poor areas. There is still that dissatisfaction, that stagnation. These areas are still forgotten … I've never tried to demonise the attackers and, in many ways, they were victims.' It is a complex issue and there is a need to bring in counter arguments (has the 'otherness' of Goth been minimised in accounts which only seek to demonise the gangs?). A deep-rooted sense of difference is noticeable in the language of the attackers: 'There's two moshers nearly dead up Bacup park; you wanna see them – they're a right mess', they boasted to friends that night. In the language of the courtrooms and newspapers in which the crime would reverberate for years, the attackers were 'feral thugs' who had 'degraded humanity'. After a trial in March 2008, Herbert and Harris received life sentences. Brothers Joseph and Danny Hulme (aged 17 and 16), and Daniel Mallett (17), also from Bacup, were convicted of grievous bodily harm and have since been released from prison. The judge told the young men that their behaviour 'degrades humanity itself … it raises serious questions about the sort of society which exists in this country.' Coverage of the crimes and the campaigns they inspired focused variously on knives, binge drinking, antisocial behaviour and troubled families. The Sun launched its 'Broken Britain' campaign in January 2008. At the centre of this were teenagers 'with nothing to lose, whose ignorance or violent behaviour is rampaging unchecked and creating a moral vacuum', the newspaper wrote. Within days, David Cameron backed the campaign, accelerating his own crusade to mend 'our broken society', a phrase he repeated throughout his Conservative party leadership. There are questions which need to be raised around representation and appropriation in the reporting of the crime and in the dramatisations that followed.
Armitage's elegy sees Sophie's own writings interspersed with real-life testimonies from her mother. Simon as author is voicing both. Some readers may see this as problematising the work somehow, but it remains enormously powerful and its tragic dénouement, 'now let me go, now carry me home, now make this known', resonates more clearly in Brexit Britain. Hate crime has risen 57% since Brexit was announced! Several police forces now treat crimes against Goths, punks and other alternative subcultures in the same way they do racist or homophobic attacks. Black Roses anticipates such change. In 2013, Greater Manchester police made the decision to record attacks on Goths, emos, and punks as hate crimes, meaning that victims had access to support mechanisms. Other forces have since followed suit due to the work of the Sophie Lancaster foundation and spokespeople such as Simon.
In its many manifestations and retellings, Sophie and Rob's story becomes an example of what we understand by the contemporary Gothic (there's an irony here, of course, in that it is a true story of Gothdom). Contemporary Gothic is defined by Catherine Spooner as that which addresses:
the legacies of the past and its burdens on the present, the radically provisional or divided nature of the self, the construction of peoples or individuals as monstrous or 'other', the preoccupation with bodies that are modified, grotesque or diseased.

Catherine Spooner, Contemporary Gothic, p. 8.
She also observes that:
Gothic as a genre is profoundly concerned with its own past, self-referentially dependent on traces of other stories, familiar images and narrative structures, intertextual allusions [. . .] Gothic has a greater degree of self-consciousness about its nature, cannibalistically consuming the dead body of its own tradition.

Spooner, Contemporary Gothic, p. 10.
I would argue, following this, that Rob and Sophie, who self identify as Goths, have become the Gothic protagonists in their own young adult story. In the new teen Gothics,
the outsider takes on a new and different role, […] a recurrent feature is sympathy for the monster: those conventionally represented as the 'other' are placed at the centre of the narrative and made a point of identification for the reader or viewer [in the new teen Gothic] the freaks and geeks are no longer pushed to the edges of the narrative but become the protagonists.

Spooner, Contemporary Gothic, p. 103.
We can see how the narrative of Rob and Sophie both mirrors and may have anticipated this shift. As a narrative, it is concerned with alterity, otherness and difference.
Alterity is the property of otherness, which often means the condition of being the inferior member of a hierarchical opposition. The phrase 'radical alterity' for example, conveys the sense that otherness is ungraspable or unrepresentable (it is related to the term 'Other'). Otherness is defined by Mark Currie as: 'The missing or significant opposite of a sign, a person or a collective identity'. To clarify this, 'The Other comes in two forms': "other" (with a small "o") is 'the illusion of otherness that is a mere projection of the ego' (i.e. making someone the other). Whereas '"Other" [capitalised] refers to a condition of alterity that is genuinely alien, impossible to understand' (such as vampirism) (Mark Currie, Difference, p. 133).
In Black Roses, Sophie states 'The difference between us is what they can't stand', referring to the condition of otherness that rendered Sophie and Rob 'moshers, weirdos and freaks' in their own community. Armitage has expressed his affinity with Sophie's difference:
It seemed to me that Sophie had been killed because she was different [. . .] I probably felt some underlying kinship with her, having grown up in a small northern community not unlike Bacup where to be different was to risk ridicule or aggression. Also, in images and photographs that begin to circulate, Sophie seemed so innocent, beautiful and vulnerable, yet she met with terrifying and almost unimaginable violence. . . . I wanted to give Sophie her voice back, allow her to speak again, and to celebrate her attitudes and character as well as commemorate her.

Simon Armitage.
The piece provoked an unprecedented response when it premiered on Radio 4 and became an acclaimed stage play. The poem has a ten stanza structure and is multi-voiced. The narrative is framed by Sophie's relationship to her mother which adds to the poem's emotional intensity. Many degrees of outsiderness are alluded to in this text. Sophie is 'November's child', born in a Twilight month, under a vampire moon, as a teen she is aware of her own difference (this is Sophie's voice, written by Simon from material in her diaries):
I didn't do sport.
I didn't do meat.
Don't ask me to wear that dress:
I shan't.
Why ask me to toe the line,
I can't.
I was slight or small
but never petite,
and nobody's fool;
no Barbie doll;
no girlie girl.
I was lean and sharp,
not an ounce of fat
on my thoughts or limbs.
In my difficult teens
I was strange, odd,
– aren't we all –
there was something different down at the core.
Boy bands and pop tarts left me cold;
let's say that I marched to the
beat of a different drum,
sang another tune

Armitage, Black Roses, IV
You can see how the poem moves in and out of direct speech, from the first person to a narrator without you realising it. As it develops, there are a number of cultural references which are a recognisable part of Goth culture at the time, together with descriptions of Sophie's appearance (the snow-white flesh, the ripped jeans and unpicked seams, the ripped fishnets, the banshee makeup and the hurricane hair) and her love of Marilyn Manson:
I wore studded dog leads
around my wrists,
and was pleased as punch
in the pit, at the gig,
to be singled out
by a shooting star
of saliva from Marilyn Manson's lips. [she is at his gig]

Armitage, Black Roses, IV.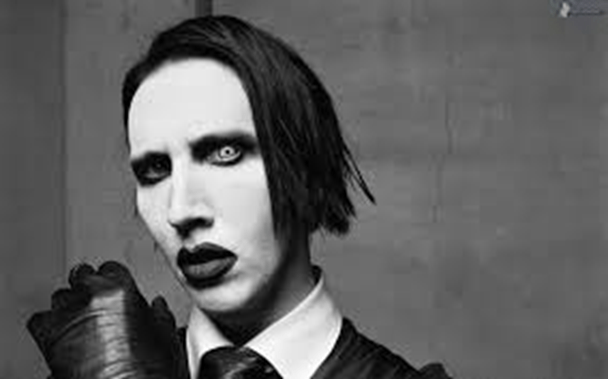 Sophie celebrates diversity herself:
the movers and shakers, the candlestick makers . . .
all the pissheads and potheads and veggies and vegans
and coppers and preachers and posties and traders,
the night-hawks and the dawn-treaders,
the speed-freaks and the metal-merchants,
the skrimpers and savers, the beggars and trail-blazers,
all the chancers and mystics and givers and takers

Armitage, Black Roses, VI.
But Lancashire 'was a place where shadows waited, where wolves ran wild, where alcohol poisoned the watering hole' (you can see the gothicness of Sophie spreading to the landscape until figures materialise out of the dark (and for Sophie ) 'a group was a gang was a mob was a pack' and till nothing I scream for can make it end' (Black Roses, v, l. ii). The black roses of the title are bitter bruises of self defence that bloom on Sophie's arms and legs in the aftermath of the attack. We again hear Sophie's voice as she lingers between life and death for thirteen days before finally slipping away. 'I am traumatised. I am compromised. I am deeply distressed. I am sorely defaced' (Black Roses, v, l. iii). As the voice suggests, this is Sophie's story and it is interesting to compare it to one which is reputedly Rob's.
Maltby worked closely with the producers of Murdered for Being Different, which claims to be a factual drama about the crime and the police investigation. There is a great deal of ambiguity here as Rob suffered memory loss following his coma and struggles to remember anything of the attack.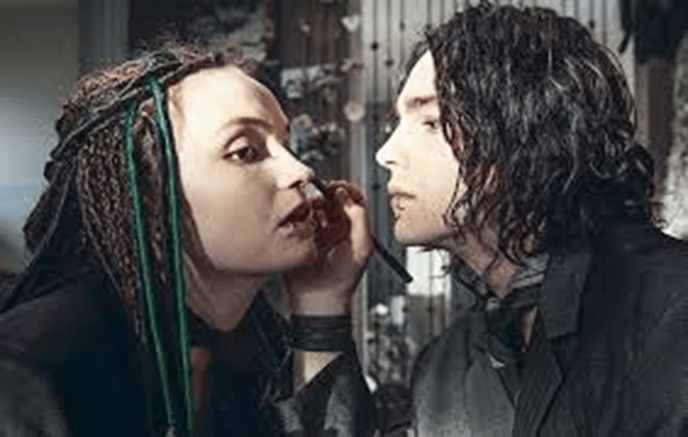 What is noticeable from the beginning is the heightened, dreamlike style in which the couple's meeting, their intensely affectionate relationship and love of art, literature and difference, is dramatised or made meaningful in contrast to the gritty reconstruction of the night of the attack. But given the widely known background and tragedy of the case, the graphic violence depicted in Murdered for Being Different seems unnecessary at best, and voyeuristic at worst. I am troubled too by the dramatic device Leather uses to enable us to witness the incident, the viewpoint of an imagined witness, Michael Gorman (played by Reiss Jarvis). Some reviewers argued that this expanded the film's scope out into the wider community, allowing for an exploration of personal responsibility and justice, and the almost insurmountable walls of silence and intimidation that the police regularly come up against when investigating such crimes. I'm unsure, but, Murdered for Being Different is a thought-provoking piece of television. Despite its title, however it lays the blame for Sophie's murder not on her difference, but on the ignorance and bigotry of her attackers. A point that is only emphasised by the film's stark closing statistic: the UK's highest ever number of reported hate crime incidents, a staggering 70,000, was recorded only last year.
What is remarkable is that Sophie's murder in 2007 reversed things in the media. Catherine Spooner has argued that the Columbine Highschool massacre of 1999 in the US led to Goth culture being identified as a source of violence, but in Britain in 2007, Goth was recast as peaceful and creative. In this instance the forces of darkness were not represented by the Goth girl herself; they were instead associated with her killers.
Goths were usually the ones persecuted in high school [. . .] the Columbine murders had reversed the pattern of the usual high school narrative, where the 'popular' students persecute the 'geeks' [these crimes] caught the public imagination at least partly because they reproduced the outsider's revenge against the wholesome American world [. . .] of cheerleaders that had been routinely fictionalised in Hollywood cinema for decades.

Spooner, Contemporary Gothic, pp.110-11.
Teenagers (whether geeks or freaks) are generally othered by adults in society; as Alison Waller has argued 'Adolescence is always "other" to the more mature phase of adulthood, always perceived as liminal, in transition, and in constant growth towards the ultimate goal of maturity' (Alison Waller, Constructing Adolescence, p. 1). Liminality, which is so essential to gothic modes, refers primarily to the concept of the threshold, the area between two spaces. And is also easily applied to the teenager because it is predominately associated with provisionality, instability, intermediate forms; what lies between the known and unknown. Both the Goths and the feral kids that attacked them are subject to a process of othering merely because they are adolescents.
This discussion of difference and otherness has all been leading to the question of how we make this known; how do we properly commemorate or remember Sophie? It is worth noting that hate crime has risen 57% since Brexit!The BBC recently published an article 'Are young people still scared to be goths?' Sadly, it revealed they are still subject to brutal attacks on a daily basis in the UK.
I want to conclude with Simon Armitage's reimagining of the voice of Sophie as her life support is switched off. It is interesting to note how few words he uses to evoke this depth of emotion. Sophie can't speak but Simon has given her back a voice. The poem's tragic denouement resonates more clearly in Brexit Britain:
They have scanned and searched
for vital signs
but I'm
hardly a pulse,
barely a breath,

a trace,

a thread,

a waste,

a past.

The line on the screen goes long and flat.

Pull the curtains round.
Call the angels down.

Now let me go.

Now carry me home.

Now make this known.

Armitage, Black Roses, x.
Dr Sam George is Associate Professor of Research at the University of Hertfordshire. This is extracted from a transcript of a talk given at the Manchester Gothic Festival, MMU, 2010, to mark the ten-year anniversary of Sophie's death. It has been published here to mark our new research strand on ethical gothic.
Please visit the Sophie Lancaster Foundation to find out how you can support their work https://www.sophielancasterfoundation.com/index.php/about-us