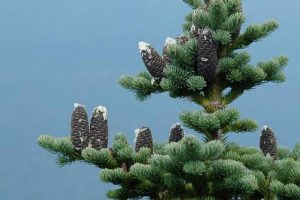 There is something of an arboreal theme going on on the blog just now following the announcement of the Beasts of the Forest conference. If you are decorating your tree you might like to read Hans Andersen's unsettling account of a fir tree that feels pain. I was reminded of this story last year when I came across Lars Ostenfeld's beautifully sad and poignant adaptation of  The Fir Tree (Danish: Grantræet) on the BBC iPlayer. I  do not think you will ever think about your tree in the same way again following these dark musings.
The tale was first published with 'The Snow Queen' on 21st December 1844. The story is narrated by the tree itself (which appeals to my botanical sensibilities) and like all of Andersen's tales there is an emphasis on physical pain and suffering. The tree is vain and so impatient to grow up that it cannot live in the moment because it expects a greater glory. When it is pulled up for a Christmas tree its life is subject to the whim of the humans whose admiration it craves. They profess to love it dressing it with candles before depriving it of light and discarding it on a fire. The tree is sentient and like the tale's creator is afflicted with a trembling sensitivity and a limitless pining (pun intended). Andersen had written tales with unhappy endings before (The Little Mermaid' and 'The Steadfast Tin Soldier', for example) but a new darker note is struck with 'The Fir Tree'. It suggests not only the mercilessness of fate but the futility of life itself, only the moment is worth embracing. For the first time in his fairy tales, Andersen expresses an existential doubt that his Christian beliefs cannot allay.
If you like a winter's tale (and a sad tale is best for winter) you will enjoy the beauty of this. The forest is deeply lush and the Danish speaking tree is extremely uncanny. Thankfully I had already returned my little Christmas tree to the garden when I watched this (as I could see its needles starting to drop). The story does make you question the beauty of something that is dying from the moment it is brought into the house. Andersen's Nordic sensibilities are very eco gothic here and the tale is wonderfully dark of course. The tree is both tragic and narcissistic. Still time to be unsettled by its arboreal sensitivities.  You can find the story in any complete Andersen collection. and there is an online version here (though I am not sure about this translation). I am lucky to have an M.R. James translation of the tale in an original Faber edition from 1930. I am truly amazed by the meeting of those two minds.