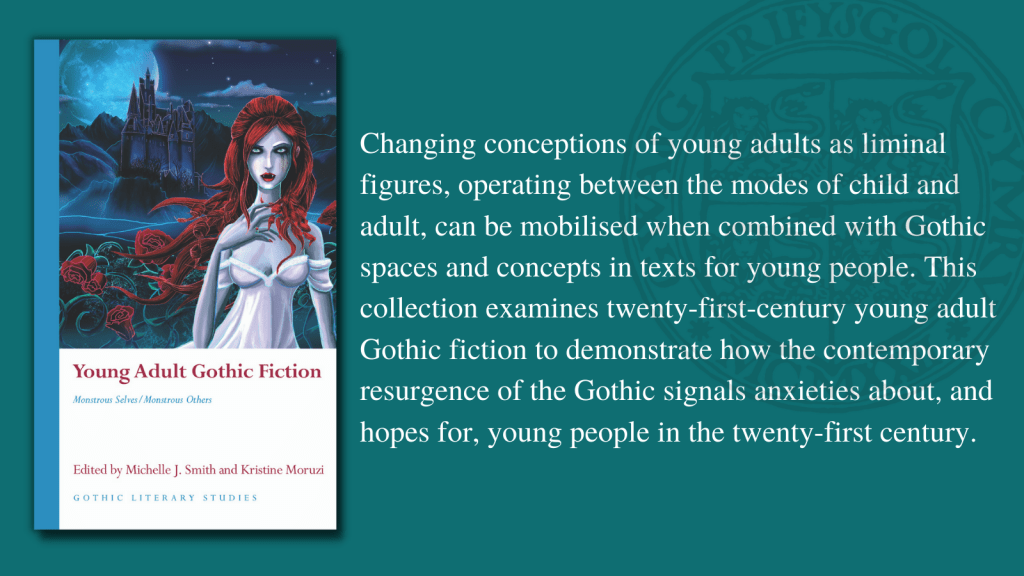 Another excellent edited collection which I am grateful to be included in is now out from University of Wales Press: Young Adult Gothic Fiction: Monstrous Selves/Monstrous Others, ed. by Michelle J. Smith and Kristine Moruzi (Cardiff; University of Wales Press, 2021). This looks an excellent collection–can't wait for my contributor's copy to read!
It's received some very positive endorsements:
My chapter is 'Genre mutation and the dialectic of YA Gothic dystopia in Holly Black's The Coldest Girl in Coldtown'. Here's an abstract:
Genres mutate; perhaps because they exhaust their potential or because of dramatic social change. But, more so than in other eras, shifts in generic expectations for popular fiction seem to be motivated purely by market forces, reducing the autonomy and even the integrity of the author. Certain genres of Young Adult fiction have displayed this conspicuously in recent times—Gothic horror mutates into paranormal romance; after Twilight (2005), the genre slumped, to be replaced by the success of a certain style of dystopia with The Hunger Games (2008) and its imitators.

These YA dystopias have come under attack from some quarters; unlike classic, socially critical dystopias of the past, these are alleged to be works of agitprop for capitalist individualism. This is a rather crude reading of The Hunger Games itself, but this chapter is concerned with another generic transformation that has taken place in response to that work.

For the vampire romance has not been killed off; it has risen again in new clothing. YA novels such as Julie Kagawa's Blood of Eden series and Holly Black's The Coldest Girl in Coldtown (2013) have emerged as a new subgenre where the dystopia encounters paranormal romance. Here, vampire romance meets the apocalyptic landscapes of dystopia, so a new genre is born. Black's novel shows concerns with contemporary technology, particularly surveillance, and intensive commodification. There is a militaristic society and containment camps, and reality TV as means of diversion. The background of the post-9/11 'War on Terror' colours the perception of the hitherto assimilated outsider of vampire romance and the paranoid militarism expresses that. Coldtown also has a strange glamour—the lure of a lawless alternative culture and haven for transgressive romance. The novel is more complex and subversive than simplistic readings of the new dystopias allow. This chapter reads Coldtown in the light of formal shifts within Gothic YA fiction.