Happy New Year! And I hope the first Monday of 2016 is treating you well.
Though I d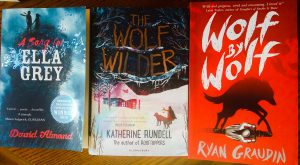 idn't get as many books read as I would have liked over the festive period (reading was replaced with eating, running and spending time with family), I did pick up the following YA novels with my Christmas money: A Song for Ella Grey (2015) by David Almond; The Wolf Wilder (2015) by Katherine Rundell; and, Wolf by Wolf (2015) by Ryan Graudin. Both the Almond and Rundell texts featured on the blog post I wrote about the best YA fiction in 2015 and Sam was particularly interested in the Rundell text as it is about a wolfish girl.
I have finished the Graudin novel – which is excellent although sadly not Gothic enough to warrant a review on this site. However, I am looking forward to getting over the January blues by curling up with the other two and will endeavour to get a review of these up once I have read them. What books have you been reading over the festive period? Did Gothic and/ or YA texts feature heavily? Let us know below.