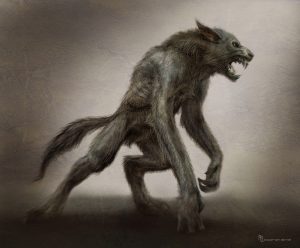 Who would have thought it there is now a real life folk panic in Yorkshire following the sightings of 'Old Stinker' an eight foot werewolf spotted in the Wolds. Kaja has already posted on this and commented on the myth that 'Old Stinker' inhabits landscape that is thought to have seen some of the last UK wolves (great post K), but I thought I would update you on the story as other papers have now reported a full scale werewolf hunt. 'Old Stinker' has apparently eaten a German Shepherd dog and been seen leaping over fences like a modern day Spring-Heeled Jack!
Townspeople Gather to Hunt Werewolf in Hull Known as Old Stinker
Haunted – Old Stinker Werewolf – Yorkshire's Bermuda Triangle
Sightings of Eight Foot Werewolf Known as Old Stinker Sparks Panic Across City
https://www.paranormalnews.com/newslink.aspx?id=15934
If you are interested in werewolves our Company of Wolves  research  is seminal and is on its way to becoming  a much talked about book on wolves, werewolves and feral children.
Do comment if you know more about the local legend of 'Old Stinker'. He is curiously absent from most accounts of werewolf mythology but I would love to know more!! Now where can I find some wolfbane….