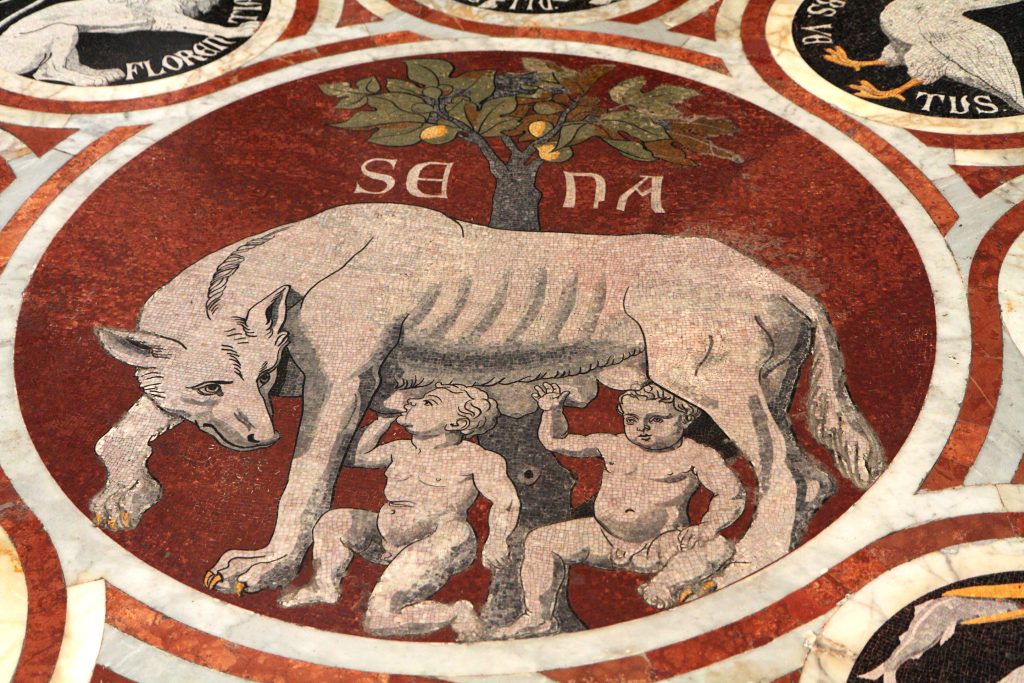 This timeline shows key texts (literary, cinematic, and TV) and events in the evolution of cultural representations of wolves, werewolves, and wild children. Click on the left and right arrows to move through the history. (We will be continually updating this and are open to suggestions.)
8th C BCE
Wolves in the Old Testament:
'And the wolf will dwell with the lamb, And the leopard will lie down with the young goat, And the calf and the young lion and the fatling together; And a little boy will lead them' (Isaiah 11:6); '"The wolf and the lamb will graze together, and the lion will eat straw like the ox; and dust will be the serpent's food They will do no evil or harm in all My holy mountain," says the LORD' (Isaiah 65:25)
7th C BCE
Romulus and Remus, founding of Rome claimed as 7th C BCE (in Livy, 27-25 BCE)
6th C BCE
'Her princes within her are like wolves tearing the prey, by shedding blood and destroying lives in order to get dishonest gain' (Ezekiel 22:2). Solon of Athens introduces a 5-drachma bounty for every male wolf killed and 1-drachma for every female.
4th C BCE
Aesop's Fables, 'The boy who cried wolf', and others
3rd C BCE
Celts start breeding ancestors of Irish wolf-hound.
80–90 CE
Wolves in the New Testament: 'Beware of the false prophets, who come to you in sheep's clothing, but inwardly are ravenous wolves' (Matthew 7:15); 'Go; behold, I send you out as lambs in the midst of wolves' (Luke 10: 3).
c. 8 CE
Lycaon in Ovid, Metamorphoses
80–90 CE
Wolves in the New Testament: 'Beware of the false prophets, who come to you in sheep's clothing, but inwardly are ravenous wolves' (Matthew 7:15); 'Go; behold, I send you out as lambs in the midst of wolves' (Luke 10: 3).
800–813 CE
Charlemagne brings in laws to establish a special corps of wolf hunters.
12th C CE
Medieval werewolf romances: Marie de France, Bisclavret; Guillaume de Palerne (became William of Palerne in English, c. 1350).
13th C. CE
Odin, Geri, and Freki; Fenrir (Norse myth): Poetic Edda; Snorri Sturluson, Prose Edda
17 Dec. 1483 CE
Incursion of wolves into the centre of Paris.
16th C. CE
Final wolf in England is killed under Henry VII.
1573
Gilles Garnier, 'The Werewolf of Dole', is found guilty of lycanthropy (including killing and eating children) and witchcraft and put to death by being burnt at the stake.
1589
Peter Stumpp (c. 1564–1589), 'Werewolf of Bedburg, put to death for crimes of lycanthropy including killing and eating his victims.
1614
John Webster, The Duchess of Malfi: uses the term 'lycanthropy' as the diseases that Ferdinand is suffering from; Ferdinand claims to be 'hairy on the inside'.
1630
First wolf bounty in American settlement introduced at Plymouth Colony.
1684
Final wolves killed in Scotland.
1697
Charles Perrault, 'Little Red Riding Hood'
1712–1775
'The Wild Girl of Champagne' (Marie-Angelique Memmie Le Blanc)
1713 (?)–1785
Peter the Wild Boy of Hanover
1726
An Enquiry How The Wild Youth Lately Taken in the Woods Near Hanover (and Now Brought over to England) Could Be Left, and By What Creature He Could Be Suckled
1729
Daniel Defoe, Mere Nature Delienated, or a Body without a Soul
1735
Linnaeus, Systema Naturae
1749–1788
Buffon, Histoire naturelle generale et particuliere, 36 vols
1764–1767
Beast of Gevaudan: a 'monstrous' wolf who is supposed to have terrorized Gevaudan, France, killing and eating a large number of humans. (Victims number anywhere between 60-210 people). Many people were brought in to hunt this creature.
1798
William Wordsworth and Samuel Taylor Coleridge, Lyrical Ballads
1802
Jean Marc Gaspard Itard, An Historical Account of the Discovery and Education of a Savage Man: Or, the First Developments, Physical and Moral, of the Young Savage Caught in the Woods Near Aveyron in the Year 1798
1806
Mary Robinson, 'The Savage of Aveyron'
1812-22
Jacob and Wilhelm Grimm, 'Little Red Cap'
1824
Charles Maturin, The Albigenses: a Gothic novel which also features a man claiming to suffer from lycanthropy who is 'hairy on the inside'.
1833
Anselm von Feuerbach, Casper Hause. An Account of an Individual Kept in a Dungeon, Separated from All Communication with the World, from Early Childhood to about the Age of Seventeen
1839
Captain Frederick Marryat, 'The White Wolf of Hartz Mountain': early (first?) female werewolf
1857
George W. M. Reynolds, Wagner the Wehr-Wolf
1865
Sabine Baring-Gould, The Book of Were-Wolves
1885
Emily Gerard, 'Transylvanian Superstitions', in The Nineteenth Century
1894
Kirby Flower Smith, 'An Historical Study of the Werewolf in Literature'
1894, 1895
Rudyard Kipling, The Jungle Books
1896
Clemence Housman, The Were-Wolf
1903, 1906
Jack London, The Call of the Wild and White Fang
1913
The Werewolf, dir. by Henry MacRae
1914
The Legend of the Phantom Tribe, dir. by Henry MacRae The White Wolf, dir. by Barry O'Neil
1915
US government takes on the responsibility for killing wolves. Official hunters are paid full time. According to Luigi Boitani (a leading wolf biologist), 'wolf persecution became an irrational obsession with no objective relationship to the actual threat. This is the stuff of which legends of elusive beasts of imaginary cunning and resistance were made: Old Whitey of Bear and Rags the Digger in Colorado, the Truxton Wolf in Arizona, and Three Toes and the Custer Wolf in South Dakota'.
1927
Hermann Hesse, Steppenwolf
1928
Aino Kallas, The Wolf's Bride: A Tale from Estonia
1933
Guy Endore, Werewolf of Paris: A Novel
1934
Final wolves from original population in France seen (potentially); they may have been killed long before this.
1935
Werewolf of London, dir. by Stuart Walker
1941
The Wolf Man, dir. by George Waggner
1942
Cat People, dir. by Jacques Tourneur
1943
Red Hot Riding Hood, dir. by Tex Avery
1944
Olaf Stapledon, Sirius
1946
She-Wolf of London, dir. by Jean Yarbrough
1956
The Werewolf, dir. by Fred F. Sears
1957
I Was a Teenage Werewolf, dir. by Gene Fowler Jr
1960
Ted Hughes, Lupercal
1961
The Curse of the Werewolf, dir. by Terence Fisher
1970
L'Enfant sauvage, dir. by Francois Truffaut (France)
1972-77
Roy Thomas, Jeanie Thomas, Gerry Conway, and Mike Ploog, Werewolf by Night (Marvel Comics)
1975
Jeder Für Sich Und Gott Gegen Alle [The Enigma of Kaspar Hauser], dir. by Werner Herzog (Germany)  
1976
La Lupa Mannara [Werewolf Woman], dir. by Rino Di Silvestro (Italy)
1978
Whitley Strieber, The Wolfen
1979
Angela Carter, The Bloody Chamber
1981
An American Werewolf in London, dir. by John Landis
1981
Tanith Lee, Lycanthia The Howling, dir. by Joe Dante Wolfen, dir. by Michael Wadleigh
1982
Ursula K. Le Guin, 'The Wife's Story'
1983
Michael Jackson: Thriller, dir. by John Landis
1984
The Company of Wolves, dir. by Neil Jordan;
Jane Yolen, Children of the Wolf
1986
Angela Carter, 'Peter and the Wolf', in Black Venus;
Teen Wolf, dir. by Rod Daniel
1989
S. P. Somtow, Moon Dance
1991
Julia Kristeva, The Old Man and the Wolves;
Dances with Wolves, dir. by Kevin Costner
1993
Terry Pratchett, Men At Arms, Discworld, 15
1993
Terry Pratchett, Men At Arms, Discworld, 15
1994
Kate William, A Date with a Werewolf, Sweet Valley High, 105 Wolf, dir. by Mike Nichols Jill Paton Walsh, Knowledge of Angels
1995
Laurell K. Hamilton, Circus of the Damned, Anita Blake: Vampire Hunter, 3
1997
Annette Curtis Klause, Blood and Chocolate
1997–2003
Buffy the Vampire Slayer, created by Joss Whedon (TV series)
1997–2007
J. K. Rowling, Harry Potter series
2001
Kelly Armstrong, Bitten, Women of the Underworld, 1 Charlaine Harris, Dead Until Dark, Sookie Stackhouse (Southern Vampire), 1 Ginger Snaps, dir. by John Fawcett Marcus Sedgwick, The Dark Horse
2002
Michael Morpurgo, The Last Wolf Dog Soldiers, dir. by Neil Marshall
2003
Neil Gaiman, The Wolves in the Walls, ill. by Dave McKean
2004
Kim Harrison,Dead Witch Walking, The Hollows, 1
2005
Carrie Vaughn, Kitty and the Midnight Hour, Kitty Norville, 1
2005–2008
Stephenie Meyer, Twilight series
2006
Keri Arthur, Full Moo Rising, Riley Jenson Guardain, 1 Kresley Cole, A Hunger Like No Other, Immortals After Dark, 2
2007
Cassandra Clare, City of Bones, The Shadowhunter Chronicles: The Mortal Instruments, 1 Rachel Vincent, Stray, Shifters
2008
Toby Barlow, Sharp Teeth
2008–2013
Being Human, created by Toby Whithouse (TV series)
2008–2014
True Blood, created by Alan Ball (TV series)
2011–2017
Teen Wolf, created by Jeff Davis (TV series)
2009
Gail Carriger, Soulless, The Parasol Protectorate, 1 Patricia Briggs, Cry Wolf, Alpha and Omega, 1
2009–2011
Maggie Stiefvater, The Wolves of Mercy Falls series
2010
Jennifer Lynn Barnes, Raised by Wolves, Raised by Wolves, 1 Jackson Pearce, Sisters Red, Fairytale Retellings, 1 Martin Millar, Lonely Werewolf Girl, Lonely Werewolf Girl, 1 The Wolfman, dir. by Joe Johnston
2011
Glen Duncan, The Last Werewolf Red Riding Hood, dir. by Catherine Hardwicke
2012
Anne Rice, The Wolf Gift, The Wolf Gift Chronicles, 1 Ôkami Kodomo No Ame to Yuki [Wolf Children], dir. by Mamoru Hosoda
2013
Benjamin Percy, Red Moon
2019
Stephen King, Cycle of the Werewolf